WBO middleweight champion Demetrius Andrade and challenger Jason Quigley both weighed in successfully on Thursday at the weigh-in for their headliner fight on DAZN this Friday, November 19th. The venue for the fight card is at the SNHU Arena, in Manchester, New Hampshire.
(Photo credit: Ed Mulholland/Matchroom or Melina Pizano/Matchroom)
Andrade (30-0, 18 KOs) weighed in at the limit at 168 pounds, whereas his opponent Quigley (19-1, 14 KOs) weighed in at 159.8 lbs.
Andrade coming to KO Quigley
The undefeated Andrade, 33, says he's coming to knock out Ireland's Quigley on Friday. There's a very good chance that Quigley's Irish boxing fans will outnumber Andrade', making the fight appear to be in Ireland rather than in the U.S.
Nevertheless, Andrade isn't someone that will be intimidated by fighting in front of a hostile crowd. Andrade is a 2008 U.S Olympian, and he's seen a lot from his days as an amateur.
This is an important fight for Andrade because he needs an impressive performance to give him a shot at facing Gennadiy Golovkin or Jermall Charlo. Those are the two fighters in the middleweight division that Demetrius would like to fight.
Andrade vs. Quigley full card weigh-in results
Demetrius Andrade (160lbs) vs. Jason Quigley (159.8lbs)
Julio Cesar Martinez (111.4lbs) vs. McWilliams Arroyo (111.6lbs)
Murodjon Akhmadaliev (121.8lbs) vs. Jose Velasquez (121.6lbs)
Kali Reis (138lbs) vs. Jessica Camara (139lbs)
Demsey McKean (243lbs) vs. Don Haynesworth (293.6lbs)
Nelson Perez (140lbs) vs. Raymundo Rios (139.6lbs)
Thomas O'Toole (186.8lbs) vs. Mark Malone (198.6lbs)
Khalil Coe (175.8lbs) vs. Aaron Casper (174.8lbs)
"More money to the scary cats and more money to GGG. That's what it boils down to," said Demetrius Andrade to Behind The Gloves on what his promoter needs to do for him to get the big names like Gennadiy Golovkin and Jermall Charlo to fight him.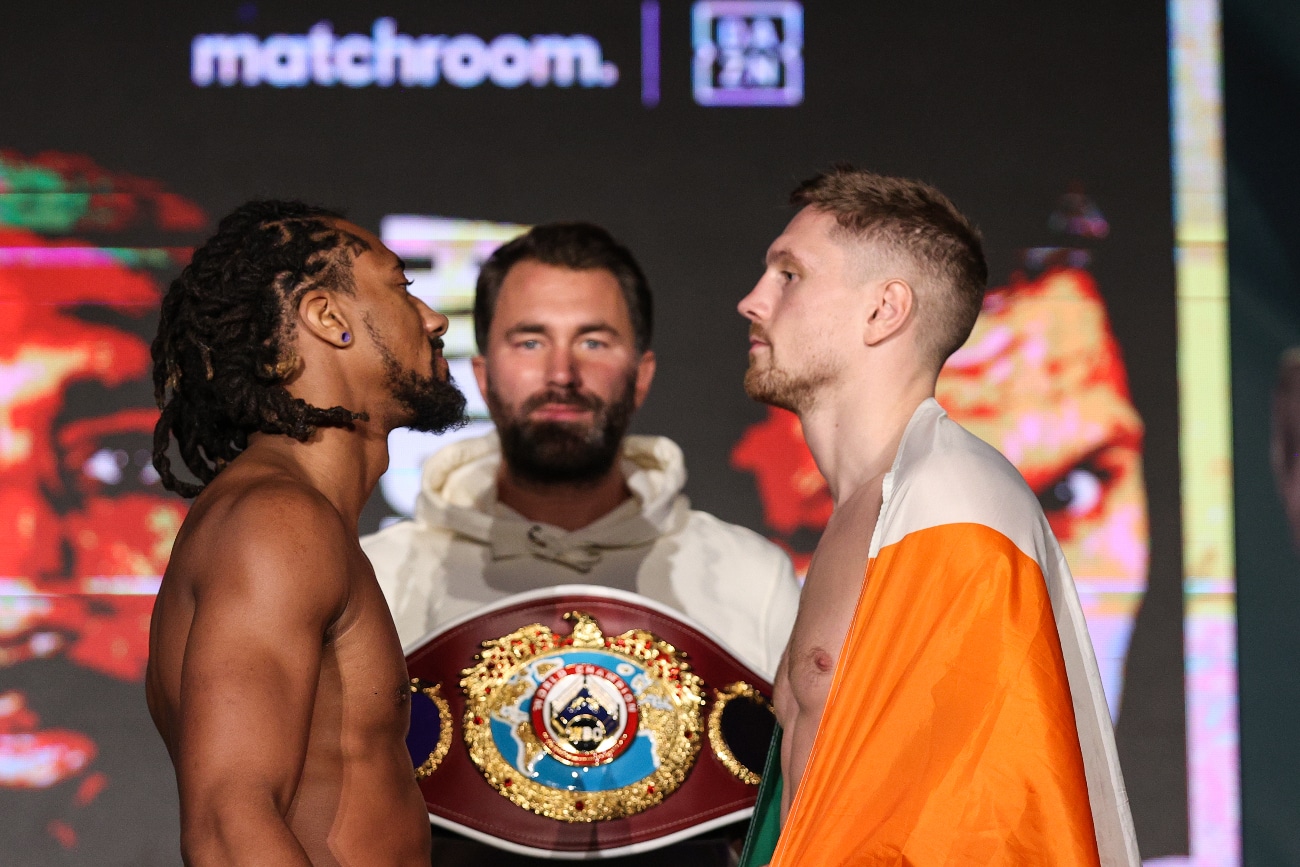 It's unlikely that Andrade's promoters at Matchroom Boxing will be able to lure Golovkin or Jermall Charlo to fight Demetrius.
If those guys wanted the fight, their promoters would have reached out a long time ago to Andrade for a fight. The fact that they haven't suggests that they view him as being too good.
Demetrius wants Canelo Alvarez
"I think it'll sell no matter who I get in the ring with when it comes to those characters. Yeah, of course," said Andrade when asked if he'd be willing to go up to 168 to face Canelo Alvarez.
"We've been in every single weight class. The incredible thing they did with Canelo and Golden Boy and now he moved on to be where he's at.
"They have power. The type of power he has, 'I want to fight everybody at 168. Nobody is fighting nobody else because this is the type of people I know I can beat. Let's make it happen.'
"He set a goal and he made it happen in one of the weakest divisions [168], I would say as far as top champions," said Andrade about Canelo's decision to pick the weak super middleweight division for him to become the undisputed champion.
"For me to go and fight him at 168 is a no-brainer," said Demetrius. "But when people ask me if I'm going to go up to 168, what am I going up to 168 for, and who are the characters I'm going to be fighting up there? Just give up my [WBO 160-lb] belt when I'm having trouble now. How am I going to make it happen then?
"So the answer is, 'Yeah, of course, I'm going to fight him [Canelo] in any weight class. It doesn't matter what the weight class is.' I'm coming to fight, to hurt and beat you up. That's what I'm coming for.
Not to talk to you about how good I am at 21-0, and not to have any conversations inside the ring," said Andrade in taking a verbal shot at Caleb Plant, who had a conversation with Canelo during the ninth round of their fight on November 6th and appeared to be looking for words of encouragement.