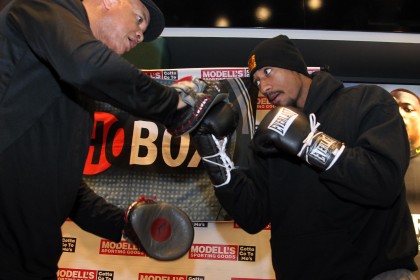 WBO world super welterweight champion Demetrius Andrade went on a rant during an interview with ThaBoxingVoice recently. He claimed that Canelo had ducked him in favour of easier opponents and then went on to say that the Charlo brothers, whilst good, were levels below him and were 'bums' in comparison to himself.
Andrade is currently undefeated in 21 bouts with 14 stoppages to his name. He made his way into the big picture with a win over the undefeated machine Vanes Martiosyan in 2013 where he picked up the then vacant WBO strap. He then came back in mid 2014 against Brian Rose. Rose was a british fighter with just 1 loss in 27 bouts but was brutally beaten around by Andrade and made to look slow and amateurish by the WBO champ.
At this point Andrade does not have another fight lined up despite his last fight being in June of last year. The weight class is stacked with talent however and there are a number of good fights out there for him, he just has to willing to fight anyone and generally it seems that is the case.
Saul Alvarez, Erislandy Lara, Cornelius Bundrage and Austin Trout would all make greaet opponents for his next fight, or even Jermell Charlo who is undefeated and fighting at 154. The main thing for Andrade is to keep active. He is only 26 and already one of the best fighters in his division. Young champions need to keep active.