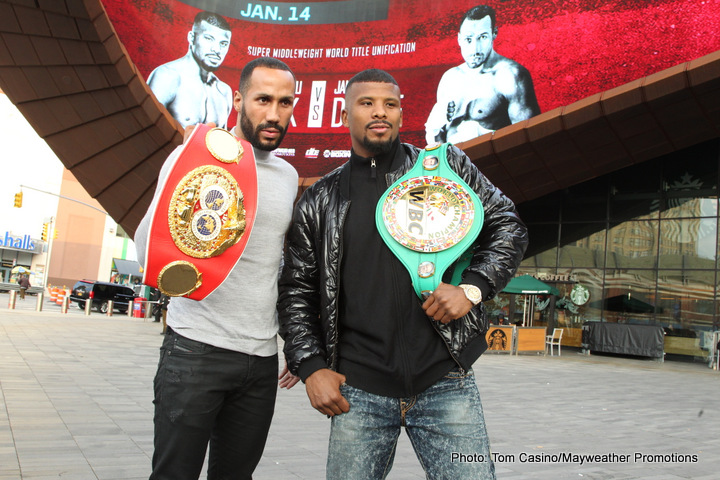 Leonard Ellerbe
Hello everyone, welcome to today's Badou Jack versus James DeGale media conference call. Today we are going to hear from the main event participants who will be headlining next week's main event at Barclays Center in Brooklyn. Our event will be live on SHOWTIME and our event is promoted by Mayweather Promotions and DiBella Entertainment. Badou Jack, WBC Super middleweight champion, he'll be taking on the IBF super middleweight champion – James DeGale and are meeting in a world title unification that fits the best versus the best. We're very excited about our great event. These two fighters have been on the collision course ever since they won their world titles. They both made successful world titles defenses on last April and with the intention of this big, big moment, next Saturday, January 14th.
The SHOWTIME CHAMPIONSHIP BOXING doubleheader begins at 9:30 PM ET/6:30 PM PT and will open our show with IBF Junior Lightweight World Champion Jose Pedraza who'll be battling Mayweather Promotions own rising star Gervonta Davis. In addition, there will be action on SHOWTIME that streams starting at 7 pm ET/PT and it will be headlined by Four-Division World Champion, Amanda Serrano. Which will be a very, very exciting fight. She will be defending her Junior Featherweight title against Two-Division Yazmin Rivas. This will be the first nationally televised female world title fight in nearly a decade.
First I'd like to introduce my dear friend and promotional partner Lou DiBella, President of DiBella Entertainment.
Lou DiBella
Thank you Leonard and it's been a real pleasure working with you Leonard and Floyd and your team. I've been very impressed by the professionalism and you guys have been great to work with and it'll be great to welcome you guys to your first major promotion in New York next week. So I look forward to seeing you here. As Leonard pointed out this is a terrific card from beginning to end and that begins even with the off TV undercard which will feature undefeated Polish heavyweight, Polish-American heavyweight Adam Kownacki against a top opponent in one of the toughest fights of his career so far. Prospect Julian Sosa who is an undefeated prospect from New York City former Golden Glove champion and a huge ticket seller in New York. Noel Murphy another local fighter from Ireland is on the card as well.
Kenny Robles who was recently signed by Mayweather Promotions from Staten Island, New York will be in action. And those guys will headline the off TV undercard. Leonard mentioned the main event Amanda Serrano who I promote one of the best pound for pound women fighters in the world against Yazmin Rivas. That's a tremendous fight and I thank Stephen Espinoza for giving the ladies that kind of an opportunity in showcase. The SHOWTIME EXTREME card will also feature a co-feature bout between number two middleweight contenders in the WBC,Ievgen Khytrov versus Immanuwel Aleem another undefeated middleweight prospect. That will be for WBC Silver Middleweight title and the winner will be on course for an eventual shot at the WBC Middleweight Championship.
So the undercard is terrific and the main event really doesn't need a lot of hype. It's as good as it gets. It's the best versus the best. It doesn't really get any better than yet. I was lucky enough to promote early in his career Badou Jack who is a terrific, terrific fighter. He's improved and proven himself in every test he's faced. James DeGale is a former Olympic gold medalist on a 13 fight winning streak. One of the most talented and also one of the most interesting and charismatic fighters in all of boxing in the 168-pound division. So we have a great main event for SHOWTIME to start the year. And I'll throw it back to Leonard to introduce the man who put this fight together with us. Leonard.
L. Ellerbe
Okay thank you Lou DiBella for those great comments. Just like Lou DiBella just mentioned we owe a great, great deal of thanks to Stephen Espinoza who worked tirelessly with our team and Lou DiBella's team to put this great event together. He's a very dear friend and like I said we are really, really excited again to be working with SHOWTIME and it gets no better than that. So without further or due I'd like to introduce none other than Stephen Espinoza.
Stephen Espinoza
Thanks Leonard. In 2016 SHOWTIME consistently telecasted the best most competitive most important fights in the sport. More fights than any other network, more title fights than any other network, more top 10 versus top 10 fights in any other network. And together with our promoter partners we're going to continue doing exactly that in 2017. Jack versus DeGale is the first of three number one versus number two match ups that are on the SHOWTIME schedule. And that's just the first quarter that's highly anticipated fight a fight that we've been working toward for a year. So we are pleased to be kicking off the new year with the consensus to best fighters in the division. As Lou DiBella mentioned the main event has been supported by intriguing junior lightweight title fight between champion Jose Pedraza and Mayweather Promotions highly talented prospect Gervonta Davis.
Plus on SHOWTIME EXTREME we've got the women's title fight featuring Amanda Serrano who it's no exaggeration say is in fact one of the top pound for pound fighters in the world. If you haven't seen her fight you should definitely tune for this one. And we've got a battle of undefeated prospects Ievgen Khytrov and Immanuwel Aleem. So really it is a stellar card top to bottom for intriguing televised fights. A bunch of high quality off TV fights plus of course the main event a world title unification fight. Once again demonstrating SHOWTIME CHAMPIONSHIP BOXING is the destination for the best fights in the sport. SHOWTIME is where the best fight the best, champion versus champion. All on SHOWTIME, no pay-per-views. No other network is as committed to the sports and together with Mayweather Promotions and DiBella Entertainment we are all committed to this sport and pushing this sport forward.
L. DiBella
I also want to point out that with this fight we've gotten a lot of help and assistance from one of the great venues in boxing. The greatest destination for boxing in the country right now. Brett Yormark and all the people at Barclays Center in Brooklyn, we thank them for their help in promoting this great event and hosting it. You're going to see a lot of great boxing, a lot of great SHOWTIME boxing also at Barclays Center this year. And thanks to Brett — everyone at Barclays Center — tickets are available Ticketmaster.com through Barclays Center Box Office. The tickets are priced incredibly reasonably with the ringside, the IP ringside seats at $300 going down to a I think it's a $25 low price. And there are while we're selling really well there are plenty of good seats available.
So we urge people to begin the year with this great card and get your tickets as soon as you can. The ringside and the prime locations are moving very quickly. And without further ado it's my pleasure to introduce a fighter that I have tremendous respect for. I was lucky enough to promote his victory against Andre Dirrell for the IBF belt in Boston in May of 2015. He's made two more defenses of that belt over Lucian Bute and Rogelio Medina. Again he was running a 13 fight winning streak and definitely one of the two best 68 pounders in the world. And this event is going to determine who the man really is. So it's my pleasure to introduce James "Chunky" DeGale.
James DeGale
Hello everyone! The big one is here, the best champ verse the champ. This is the one that I've been calling for. I've been on the case to my advisor saying hey that's the one I want. I think this fight determines who is the number one in the division. I think Badou Jack's a hell of a fighter, a real good fighter and an underrated fighter. He's shown his last three, four fights that he's the champ and that he can compete at the highest level and that he's a quality operator. Camps gone fantastically well, I'm feeling good, sharp, on weight. I'm in fantastic shape, just go and look on my Instagram, I'm in fantastic shape. Been in camp for ten weeks, feeling great mentally and physically in fantastic position. What do I say? On the 14th of January you are in for a treat because it's going to be a hell of a fight. It's a lot on the line so enjoy it but should be a good one.
L. Ellerbe
Thank you James for those comments. Next up I'd like to introduce Mayweather Promotions own WBC Super Middleweight Champion. He's from originally from Stockholm, Sweden but he trained in Las Vegas. He won his world title in 2015 by beating Anthony Dirrell in a very, very exciting fight. Later that year he faced and beat top challenger George Groves, the only man to beat James DeGale in the pros. So without further ado I'd like to introduce none other than Badou Jack.
Badou Jack
Hey what's up? How's everybody doing? We're finally here, we've got another week and then it's on. The best versus the best and I'm very excited. I've been training really hard I can't wait until fight night thank you.
Q
James you've fought so many world champions and so many top fights but you're a guy that's been going on the road. What's why is that?
J. DeGale
I don't know why that is, but I actually like boxing away from home. It takes the pressure off you a little bit and this is living the American dream. Do you know what I'm saying? I'm coming over to America to box in these fantastic states. And getting a fantastic opportunity from my team. But this one is the big one, New York, Barclays Center. Unifying the division so you can't beat it.
Q
You're a unified world champion do you have a desire to actually go back home to England and have a world title defense?
J. DeGale
That's the plan. To go home – to go back home. If everything goes to plan. I beat Badou Jack, next May I'm going home. I'm going home and I'm having a big fight at home. Everyone's calling for the champ to come home. So yes that's next in line if things go to plan.
Q
Badou, can you talk about DeGale's ability and how he's fought on the road over the last few fights? Not a normal thing for top fighters to do.
B. Jack
Yes, you got to give him credit for that. He comes to people's backyard. But also I think they lost the first purse bid. He was forced to go to Boston but he's a fighter and I have nothing but respect for him. Come Saturday night, we're going to go to war.
J. DeGale
And let's not forget Andre Dirrell. Let's not forget who I beat for the world title as well. I boxed Andre Dirrell in America. Andre Dirrell is a good quality technical fighter. This belt wasn't handed to me. I got it the hard way. All of my career I've learned the way. Traveled away from home, won world titles.
Q
Are you at all a little bit disappointed that the fight didn't get done before next week? Or are you okay with the fact that you guys are both on equal footing in coming off of the nine-month layoff?
J. DeGale
Yes, if I'm being honest the only reason why this fight hasn't happened quicker is because Badou Jack didn't want it. After the Bute fight he probably didn't want it. And then after the Medina fight because I boxed rubbish because Medina went full rounds on me. Badou Jack has got lot of confidence, Leonard's got a lot of confidence. Mayweather's got a lot of confidence of him seeing me go twelve rounds and it was lackluster performance against Medina. But you shouldn't take too much away from that. That's what I'm trying to say. Don't take too much away from me fighting Medina and performing like that.
B. Jack
That is all a lie. But I've been ready since right after the fight, I told you guys, we could fight in June. I told you I've been waiting for Floyd and Leonard to let me know when the date is. I've been on Leonard every day for the whole summer. Like come on it's been six, seven months I want to fight. You know what I'm saying? But whatever – whatever's the case. If he was greedy about money, whoever's fault it is we got the fight down right now. And, you know, I'm ready. I don't care about old fights if he went 12 rounds with this guy and this guy. Me and DeGale have to fight so whatever happened in the past, it don't matter. You know I lost…
J. DeGale
And you went life and death with Periban. Life and death I knocked him out in three rounds.
B. Jack
That don't mean nothing right now. It's me and you baby.
Q
Badou talk to us about the abilities that you see in James DeGale and how do you actually beat him?
B. Jack
He's a good mover he's a good fighter. Come fight night you'll see how I'll beat him. You'll find out go live on Sky Sports or SHOWTIME or come live at Barclays Center, you'll find out.
Q
Do you think James is going to be one of the trickiest opponents you've ever faced?
B. Jack
I don't know, we have to wait until fight night and see. Styles make fights, so you never know, anything could happen in this big circle.
Q
Who have you faced before — James — who is similar to Badou Jack who you can compare to?
J. DeGale
Listen I would say I've boxed a lot of people like Badou Jack. Badou Jack he's pretty basic but he's good at everything. But he's a basic fighter really but he's good at everything he does. So I'm saying, he ain't got no special effects, nothing fancy. Everything's just straight forward but very, very good. He does it very, very well and in the ring I can imagine it to be very hard when I stand in front of him. He's very technical, he's got a good jab, works the body well, got a good defense. But I've got everything covered. And as I say, wait ten more days now and it's on.
Q
Do you feel that you just have to be James DeGale at his very best to beat Badou Jack?
J. DeGale
James DeGale at his very best, fully switched on, having no time off. I can't have rounds off against Badou Jack. So I'm saying fully fit, fully concentrated, be myself and it's hard to beat me in general, so Badou Jack ain't going to beat me if I'm a hundred percent.
Q
What's the biggest change in you over the last year do you think?
J. DeGale
Every year I'm growing. I'm saying mentally and physically but I'm growing up. I turned professional when I was 22 years of age. I'm 30 years of age now. So I've been pro for eight years and I say I'm a man now in it. I'm a man and — yes — I look at things differently and I see things differently but these – the next couple years are my peak. I've got to get in there and got to get the big fights.
Q
And so the question for James, where would you rank this belt in terms of difficulty?
J. DeGale
I think it's up there – I honestly think Badou Jack is a quality fighter. he doesn't really get the credit he deserves. But as I say these last couple fights he's proven, he beat Groves, Dirrell, he should have got the decision against Bute. But a lot of people thought he won. So he's been spot on with his performances so I rank up there — listen here — if I beat Badou Jack — when I beat Badou Jack — I am number one in the division and people have to start taking note. So what I'm saying Olympic, British, European, world and unified world champ. People are going to have to start taking note but let me be ranked first and then we can talk after.
Q
Do you think this is the fight that can catapult you into the big time in terms of like the British consciousness and that?
J. DeGale
Yes, you'd think so, you'd think so. Say it's a big fight, it's a big arena in New York. This is what boxing at its best is about. And this is when you see the very best in me as well. I'm a big fighter I love the big arenas, the big lights, and the big fights. So it should be good next Saturday.
You mentioned obviously that you took "Porky" Medina lightly. I take you won't be underestimating Badou?
J. DeGale
I've taken this seriously. I've took this, like, literally like the training I've been doing. Like just stupid little things from like making weight, like, because I make super middleweights so easy. Sometimes I lift it — like the last ten days — where I was, a couple pounds over yesterday. I'm flying, I'm in fantastic shape, I've gotten a strength and conditioning coach for the past six months after my last fight. Because something was missing after my last fight. Because I was fatiguing at the end. I was feeling fit but I was just feeling a bit weak. And it was because I wasn't doing strength and conditioning. So you all are going to see a big difference from my power, to my strength, to everything. And physically and so look at me – you're going to see me at the weigh in and go wow he looks good.
Q
Just a quick one for Badou. Same question I asked James earlier where would you rank this belt in terms of difficulty?
B. Jack
Like I say in the squared circle anything could happen so you don't know. On paper absolutely this is probably my biggest fight. He's an Olympic gold medalist, the world champion, the proven fighter. That's why it's the best versus the best. The unification play, two champions fighting each other so absolutely.
Q
Do you take any confidence form your victory over Groves and that he — James — suffered his only professional defeat to George Groves?
B. Jack
No like it's not gonna stop me in fights, I think that was like five, six years ago since they fought. So you can't really compare it and that was a close fight. I haven't really seen a fight like that but a lot of people have said that it could've gone either way. James could have won the fight so no, not really, it's me and him right now. So whatever happened it don't matter.
Q
Can you both address just the different things that can happen in this fight because all those results against common opponents that you had?
B. Jack
All right first of all we got four different opponents. So I beat Groves, "Porky" Medina, Periban and Bute. My fight with Bute wasn't a draw, plus he was on steroids when we fought. So I mean Bute said it himself that my fight with him was one I won clearly. But that don't matter really so George Groves that was a long time ago when James fought him. I fought him two years ago. Medina, I knocked him out but you can say Medina probably was in better shape when he fought DeGale. Because he probably had a longer time to prepare because it was a title fight. Periban maybe — yes — he was in better shape for my fight. That was also a controversial draw. That's why it's an interesting fight. We've got a lot of common opponents. But come fight night it'll be a brand-new fight.
J. DeGale
Right so let's go through mine, listen the Bute fight – when I boxed Bute — yes — I absolutely battered him for six rounds. Battered him – well I battered him for the whole fight yes. And then Badou Jack boxed Lucian Bute and it came out he was on drugs. Do you really think Lucian Bute wasn't on performing enhancing drugs when he boxed me? Of course he was, don't be stupid. Did you see the way he finished the fight? Did you see how strong he was? Had a lot — listen — any fighter fatigues in a 12 round fight. Did you see how strong he finished it? Constantly on me – well Badou Jack knows but I absolutely battered Lucian Bute right? Who else is there – there's Periban, he had life and death with Periban. I knocked him out in three rounds. Okay, he could say he wasn't in good shape.
It don't matter, I still hit him, I still dropped and he got knocked out and he had life and death. George Groves I was a nine fight novice. I was a nine fight novice, I was immature, I was young, I wasn't experience, I was terrible, it was all wrong. And I was still a close draw I should have won that. Badou Jack boxed well in that fight and once again that was a close fight with him like literally very close because it went either way, but he won. And who's the other one? Who's the other one? Oh and Medina – oh man that guy, like, literally before I went in I was like this guy shouldn't even last four rounds with me. But I nearly come unstuck because he was fit and he pushed me. He was strong, he was big, so yes, styles make fights. As Badou Jack says next week when we get in there it's me and him. The best fighting the best, whoever comes out is the champ that's it. Put them up.
Q
Lou can you address that? I mean does that add intrigue to the fight that they had so many different results against the same opponents?
L. DiBella
I don't want to be like I don't think it matters much to be honest with you. I think that right now, I think you've got two guys at the top of their game. Who are at the top of their division. I think they are focused solely on each other, styles makes fights, throw in some PEDs and throw in some other extenuating circumstances. Throw in guys that may be out of shape in one fight and particularly ready for another. I think it's something that can lead to discussion and make for an article but I think, when we get to January 14th and you get to that main event it's just these two men in the ring staring each other in the eyes. And who's the better man? It's mano, a mano and you throw it all down and put it all on the line. So honestly I really personally don't think it matter all that much.
Intrigue is never a bad thing. And debate is a good thing and I'll tell you, it's probably a contributing factor because right now when you talk to people about this fight and it's really one of the signs of making the best versus the best is that there's a real clear split in opinion among experts and opinion among fans. And social media, pundits in social media commentary, people are really split almost right down the middle of this one on who's going to win this fight. And I think there's a lot of reasons for that and this is just the contributing factor.
Q
How has becoming a father changed your resolve?
B. Jack
I've got to provide for my daughter now so it's not just about me and my family, my wife. It's about her, everything I do is for her so yes, extra motivation, for sure.
Q
So what in this fight do you see are your advantages over Badou Jack?
J. DeGale
Oh there's loads but I'm going to tell you one that stands out is just speed, movement. I'm not going to have to say I'm not going to tell you what I'm going to do because he's going to be very shocked what I'm going to do. But speed, I'm so much faster in movement. I move my feet so much better, there's two things there. That it's just going to confuse him. I'm going to make things a whole lot harder for him. See I'm not Lucian Bute, who else has he boxed? I'm not Dirrell, I watched the Dirrell fight. Dirrell blew up after six rounds he was spent.
Q
Badou what do you think your advantages are in this fight?
B. Jack
I'm the smarter fighter — period. I believe I'm the more fundamentally sound fighter. I believe I'm the more technical fighter, I take nothing away from DeGale who is a good fighter as well but I believe in my skills, I believe in myself. I believe I'm the smarter fighter, it's not just about throwing millions of combinations or looking flashy and stuff like that. It's about winning rounds, it's about being smart. That's what it should mean.
Q
Lou, I'm assuming that at least for this fight this New York insurance situation has been taken care of. Can you comment on that?
L. DiBella
Yes, we have insurance for this fight. The insurance issue in New York has not been resolved there needs to be a real investigation into what's going on here and we need to confront the fact that they there's still no way of doing smaller shows. ShoBox level shows or Broadway Boxing, those kind of shows that other promoters in New York do a regular basis. The local grassroots boxing can't be done under the insurance requirements that exist. But for a fight of the magnitude of this card we were able to get insurance for the show. And the major, major fights can go on in New York right now. But obviously where there once were scores, literally in the neighborhood of 100 fights in New York in a year.
You are probably now unless things changed looking at somewhere between eight and 10 in total. At all venues. So the issue is still a real one, it hasn't been cleared up but we are fine for this great card on January 14th. And as you'll still see big time boxing in New York the problem is going to be with the type of boxing that develops fighters that gives them regular fights. A lot of boxing series that myself and other promoters are doing in New York are still at a standstill.
Q
James you mentioned that you'll be looking to come back to the UK in perhaps May. Is there a plan in place already for if you do prevail?
J. DeGale
Listen mate I'm just fully focused on Badou Jack — fully focused — I don't want to worry about anything else. I'm saying everything goes to plan, I come through this, I will come back and box in London. Next fight — 100% but I ain't spoke about it really, I ain't spoke about it but I know my next fight will be in London after this fight if I come through.
Q
Do you think in a way though you've enhanced your reputation back in the UK by fighting abroad and taking these challenging fights?
J. DeGale
Well definitely I've become a bit more exclusive because I ain't been at home. People can't wait for me to come back home and obviously win my belts. What I've done over here in America in the past year and a half has been really good. I feel proud of myself but I'm looking forward to coming home and boxing in front of my own people man because the atmosphere's second to none. You've got the best fans in the world and it's time for me to come back home.
(Ryan Elliot): Okay thank you James. Good luck to both of you on fight night.
James DeGale: Yes.
Operator: Our last question is going to come from Dan Rafael from ESPN. Please go ahead.
I'm wondering from both of you guys have you thought about the future beyond the fight as far as whether you want to move up in weight to look for a new challenge or do like what some other top champions have done and stay and keep unifying?
J. DeGale
Yes, Dan I'm pretty easy man, I want the biggest fights, the biggest risks, the biggest money. All the titles that's what I want so I come through this — everything goes to plan — I'm willing to fight anyone. Andre Ward – as I said before I do my weight pretty comfortably like super middleweight's the perfect weight for me. But listen I want to be challenged. I want to be in the fights -where I'm the underdog for once. That's what I want to be and yes with me and Jack I think I'm a big favorite. And I don't really like that if I'm going to be honest because this is a genuine 50/50 on paper it is anyway. But yes, like, I'm willing to fight anyone after this fight.
B. Jack
I kind of agree with him whatever the money is, whatever the big plaques are. I'm a pretty big guy for my weight class so yes we'll see what the future holds. But right now I'm focusing on him but, the future is definitely at 175.
Q
Lou DiBella, just to clarify from your earlier statement. Do you have a policy that's actually in place for Saturday's fight next week?
L. DiBella
We have insurance for Saturday.
Q
What is it costing?
L. DiBella
It's certainly more of an expense than we anticipated and it's not what we would like in a perfect world. But we have insurance for Saturday there's no issue.
Q
I believe the UFC cost somewhere around, I forget the exact number, of a thousand dollars per fighter. What's the costing for boxing then per fighter on the card?
L. DiBella
It's more than – it's more than that. I don't want to give its exact numbers at the moment, I can have more detailed conversation when I have the stuff in front of me. But it's more than that.
L. Ellerbe
Well everyone's heard from both of the main event fighters. I know I'm very excited, Lou DiBella's very excited. The fighters are very excited, Floyd's very excited. We're going to have one hell of an event come next Saturday night and we'd like to thank everyone for joining us on the call today. And we look forward to putting on a great event next week. Thank you everyone who joined the call.
James DeGale vs Badou Jack Quotes
IBF Super Middleweight World Champion James DeGale hosted a media workout in his hometown of London Tuesday as he prepares to face WBC Super Middleweight World Champion Badou Jack in a 168-pound world title unification showdown that headlines action on Saturday, January 14 from Barclays Center in Brooklyn and live on SHOWTIME.
The SHOWTIME CHAMPIONSHIP BOXING telecast begins at 9:30 p.m. ET/6:30 p.m. PT with with super featherweight world champion Jose Pedraza taking on undefeated contender Gervonta Davis.
Tickets for the live event, which is promoted by Mayweather Promotions and DiBella Entertainment, start at $25. Tickets are available and can be purchased online by visiting www.ticketmaster.com, www.barclayscenter.com or by calling 1-800-745-3000. Tickets are also available at the American Express Box Office at Barclays Center. Group discounts are available by calling 844-BKLYN-GP.
DeGale worked out and answered questions for media at the Stonebridge Boxing Club as he nears his third straight fight in the United States, this time looking to return to the UK as a unified world champion.
Here is what DeGale had to say on Tuesday:
JAMES DEGALE
"This is the best fighting the best and this fight will prove who's the best in the division — and I believe I am the number one super middleweight on the planet.
"Unification fights like this are still rare, never mind the best fighting the best, and me and Jack both wanted the fight. We both want to prove who is the best and everyone is in for a treat on January 14.
"I've got the best trainer in the world in Jim McDonnell; together we won the world title and now we're going to unify the title. I'm going to win in style and do the business in the big New York City and come away with both belts to bring back to London.
"Jack's a serious fighter, he's a world champion, he has something I want. The winner of this will be the number in the division.
"Growing up, Joe Calzaghe, and Prince Naseem Hamed, they're the ones I used to watch and I'd think, 'I can't wait to do that.' Calzaghe's one of my favorite fighters. He's a bit similar to me. He's a southpaw, throws a lot of punches. He's another one who didn't get the full credit he was due until after he retired. But that's how boxing is.
"I've got to perform. My last couple of performances haven't been vintage James DeGale. This is the best fighting the best, the champ fighting the champ: this is proper.
"I don't get the respect. I made a bit of history. If I unify the division, going across the pond, no one's ever done that from Britain.
"This is the one. I get love and support, I do have my fans, but it just feels like I look around at different fighters who haven't done half what I've done and they get so much more recognition.
"I don't get the credit: the full recognition, I don't. But after this fight, people will start respecting me and knowing I'm the best."