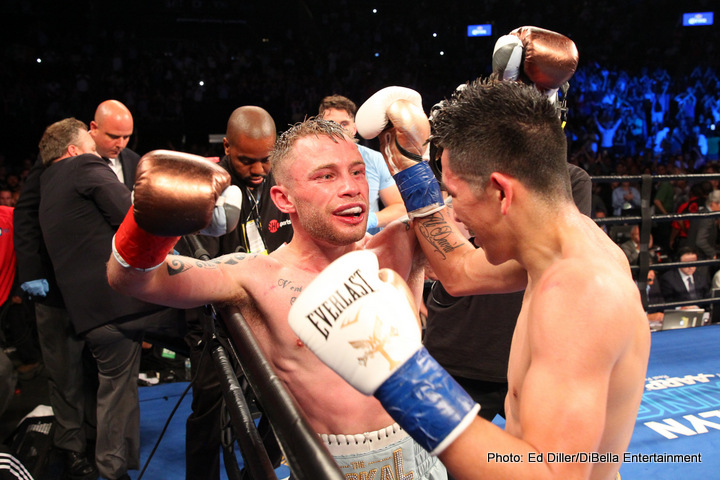 The undefeated Carl "The Jackal" Frampton (23-0, 14 KOs) had an extremely successful year in which he elevated himself from a great world champion to one of the best fighters in the world. Frampton went on the road twice to defeat two previously unbeaten elite title holders, Scott Quigg and Leo Santa Cruz, to become a two-division world title holder, making him my 2016 Fighter-of-the-Year.
The IBF featherweight champion went to Manchester, England in February to take on Quigg, the unbeaten WBA champion, in a long awaited featherweight unification bout. Frampton displayed an outstanding jab and great counter punching that helped him outwork and out land Quigg, especially in the first half of the bout. Frampton's aggressive fighting style and punching power helped him survive a late rally by Quigg and contributed to him breaking Quigg's jaw. Frampton defeated Quigg by split decision, although the fight was not as close as the decision indicated.
Frampton then traveled to America in July, as he moved up to the super featherweight division for the first time to fight the undefeated WBA super featherweight champion Leo Santa Cruz. Cruz was favored in this bout and considered the best fighter at this weight class. Frampton badly staggered Santa Cruz in the second round from a powerful left hook. His power shots and more accurate counter punching helped him prevail by a majority decision in a potential Fight-of-the-Year bout. He will fight Santa Cruz in a highly anticipated rematch on January 28th on Showtime.
My first runner-up for the Fighter-of-the-Year was Vasyl Lomachenko (7-1, 5 KOs), who also had an exceptional year. The WBO super featherweight champion did not lose a round and dominated both opponents he faced. He moved up to the super featherweight division in June and scored a devastating fifth-round knockout over the usually sturdy former world title holder Roman Martinez, via a left uppercut-right hook combination. Lomachenko controlled this one-sided bout from start to finish as his hand speed and punching power were too much for Martinez to handle. His victory over Martinez set the boxing record by becoming a world title holder in two divisions in the fewest amount of fights (seven).
The top ten pound-for-pound boxer in the world then took on previously unbeaten knockout artist Nicholas Walters in November. Lomachenko successfully defended his title as he dominated this bout. He neutralized Walters' explosive punching power, out worked and out landed him, and connected on the harder punches. Lomachenko frustrated Walters so much, that he quit before the seventh-round, even though he was not hurt.
WBO junior welterweight champion Terence "Bud" Crawford (30-0, 21 KOs) is my second runner-up for the Fighter-of-the-Year. He had a great year with a 3-0 record that included two knockouts. Crawford defeated former world title challenger Hank Lundy via a fifth-round technical knockout in February. He then cruised an easy twelfth-round unanimous decision over WBC title holder Viktor Postol in July. Postal was considered the second best boxer in this division. Crawford knocked down Postol twice and was never really tested in this unification fight. This victory made him the undisputed best fighter at 140 pounds. He finished off the year in December with an eighth-round technical knockout over John Molina, Jr., in a fight that Crawford dominated.