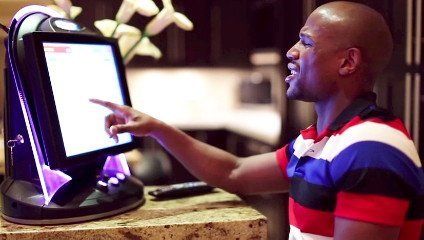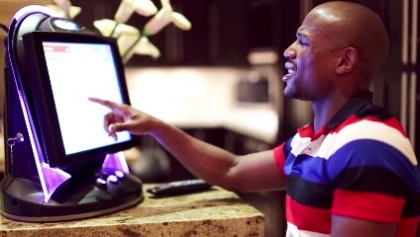 Oscar De La Hoya of Golden Boy Promotions feels he knows how WBA junior middleweight champion Floyd Mayweather Jr. (44-0, 26 KO's) is going to face his fighter WBA/WBC junior middleweight champion Saul "Canelo" Alvarez (42-0-1, 30 KO's) on September 14th at the MGM Grand in Las Vegas, Nevada.
De La Hoya has it worked out in his head that Mayweather is going to stand and trade with the young, and much, much heavier Canelo like he did in his fight with Miguel Cotto last year in May. De La Hoya thinks this is going to leave the 36-year-old Mayweather vulnerable to Canelo's heavy shots.
Speaking with RingTV, De La Hoya said "Mayweather will stand in the pocket and fight. He'll run and he'll box, but he'll also stay in the pocket and fight, which can make him vulnerable to being hit and exposed to being hit."
I think De La Hoya NEEDS Mayweather to stand in the pocket for his stationary fighter Canelo to win this fight, but I don't believe Mayweather is going to be willing to stand in front of a fighter that could outweigh him by as much as 26 to 30 pounds on September 14th. That's just not a realistic view.
Mayweather did stand in front of Cotto last May, but he seemed to be trying to prove a point in that fight. He proved that he could beat Cotto by meeting him punch for punch, but it cost him because he took a heavy shots in that fight. Mayweather isn't going to make that same mistake again, and his father/trainer Floyd Sr. isn't going to let him.
Floyd Sr. doesn't want his son to get hit by a guy that weighs 25 pounds more than him, so you can expect Mayweather to be using the same kind of movement that he used in beating the 170 lb. Carlos Baldormir in 2006.
Mayweather can still move well when he wants to, and against Canelo, I think Mayweather is going to show the boxing world he can still move almost as good as he could earlier in his career.
If Mayweather stands in the pocket, he's going to have problems because Canelo will take advantage of that by throwing big body shots. He's probably not going to be head hunting as much I this fight because Mayweather is so hard to hit with head shots. But Canelo will definitely be attacking Mayweather's body if he fights him the way that De La Hoya describes in his vision.