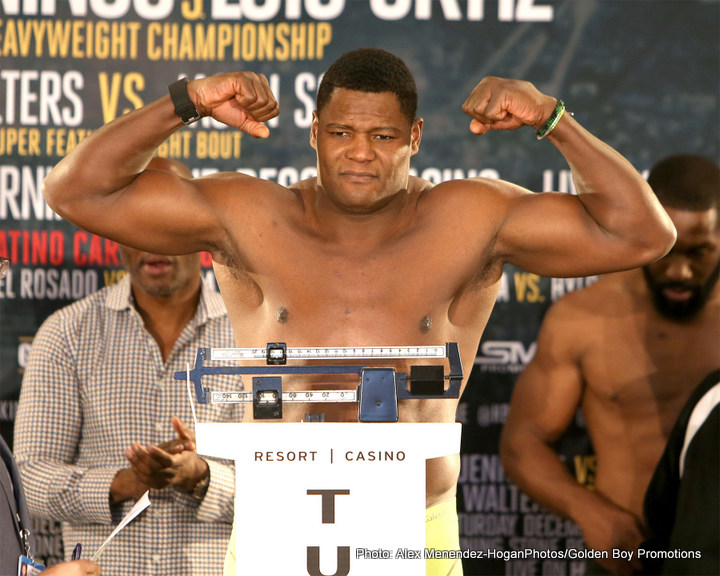 Promoter Oscar De La Hoya knows real talent when he sees it, and the Golden Boy head thinks he has the best big man in the sport signed to him. De La Hoya believes interim WBA champ Luis Ortiz can see off all comers and he wants to keep the Cuban southpaw active – so much so that, if Ortiz beats Tony Thompson with relative ease on March 5th, "King Kong" will fight again on the May 7th Canelo Alvarez-Amir Khan bill in Las Vegas.
The only problem De La Hoya could encounter that would spoil this plan – aside from Ortiz being beaten by or picking up an injury against Thompson – is not being able to find a suitable opponent for Ortiz. We all know about the problems Golden Boy had getting an opponent for the March 5th date, with veteran Thompson being the only notable name that was apparently willing to get in there, at short notice, with Ortiz.
But the idea of keeping the 36-year-old (37 in March) active is indeed a good one.
"We're looking at having King Kong on the card if everything goes well in March," Oscar told ESPN.com. "This is the best heavyweight on the planet today and we want to keep him extremely busy and force the top heavyweights to fight him."
Ortiz against the top names, such as Tyson Fury, Deontay Wilder and the winner of the Charles Martin-Anthony Joshua fight would definitely make for interesting viewing. But is Ortiz that dangerous, that good, that he runs the risk of being permanently dodged and frozen out? Are the top fighters De La Hoya is referring to waiting until Ortiz gets old? If this proves to be the case, it really will be a shame. Ortiz is exciting to watch, he punches very hard and he seems to have absolutely no qualms about fighting the best – or at least wanting to fight the best – as often as he can.
Thompson might give Ortiz something to think about for a few rounds in March, but after that, let's see if Golden Boy can manage to lure a big name into taking a risk by fighting their Cuban monster.
Canelo-Khan, already a great event, can only benefit from having one of the premiere heavyweights in the world doing his stuff as chief support.