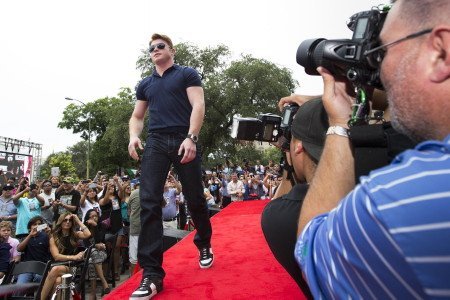 (Photo credit: Esther Lin/Showtime) Without a knockdown and some very generous scoring for his last fight, WBA/WBC junior middleweight champion Saul "Canelo" Alvarez (42-0-1, 30 KO's) would have ended up losing his last fight to Austin Trout last April in San Antonio, Texas in their open scoring fight. As it was, Canelo won a fight that looked to be more of a draw than a victory in the minds of a lot boxing fans.
Don't tell that to Golden Boy promoter Oscar De La Hoya, because he feels Canelo is on his way to achieving greatness in his career.
De La Hoya said to the press today "With the help of the people surrounding him, Canelo is on his way to becoming great."
It's difficult to see greatness in Canelo as of yet. He looks like a good fighter, hardly great. I don't think Austin Trout is a great fighter, and from what I saw there wasn't much difference between the two of them aside from the knockdown in the 7th and some generous scoring by the three judges that worked the fight.
De La Hoya is correct about one thing; the crowd support definitely helped Canelo in the Trout fight because they were screaming loudly even when Canelo was missing punches. When you have the crowd in your favor like Canelo did in the Trout fight, it definitely helps you because some judges are influenced by crowd noise and that kind of thing tends to help the fighter that the crowd is cheering for.
If Canelo gets embarrassed by Floyd Mayweather Jr. on September 14th in their fight in Las Vegas, Nevada, De La Hoya is going to need to find another fighter to hype and put in against Mayweather. He tired Victor Ortiz, and we saw what happened there. Ortiz was heavily hyped before the Mayweather fight and he ended up getting dominated and stopped in four rounds.
Ortiz is faster than Canelo with the same kind of power, but with better movement. Will Canelo be the next Ortiz? I don't know, but De La Hoya shouldn't start talking about greatness with Canelo until he beats someone his own size and without controversy.
Can Canelo still be great Mayweather dominates him? I suppose if you lower the bar for what you consider to be great.
As of now, I don't see Canelo even close to being great. The Trout fight showed me that Canelo is a good fighter, but one that lacks stamina, movement and the ability to throw a lot of punches. He's another one of those Arthur Abraham type of fighters. He rests for a long time and then suddenly throws a flurry and then rests. You get maybe two flurries per round out of Canelo, and in between that he's getting outworked. It's just like Arthur Abraham.