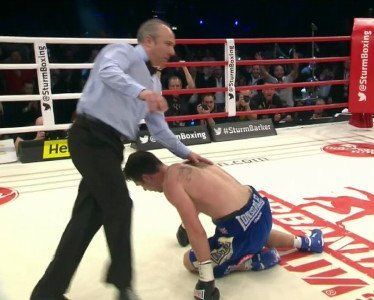 In a surprise upset, former WBA midleweight champion Felix Sturm (39-3-2, 18 KO's) came out fast and knocked IBF middleweight champion Darren Barker (26-2, 16 KO's) out in the 2nd round tonight at the Porsche Arena, in Stuttgart, Germany. Barker was knocked down twice in the 2nd round from clubbing right hands to the head from Sturm.
Barker was able to get back to his feet after the 2nd knockdown, but he was taking some big head shots that led to his corner choosing to have the fight stopped by throwing the towel in.
Barker reportedly dislocated his left hip in the fight. In watching it on replay, the injury may have occurred when he was staggered after the 1st knockdown. Barker almost lost his feet and he put a lot of weight on his left leg. However, Sturm marched forward and dropped Barker with a big clubbing right hand to the head. There's disagreement as to when the hip injury happened. If it was in the 1st round, then it's difficult to imagine where it happened because it was a pretty even round with both guys landing hard shots.
Barker came out in the 2nd round ducking real low in front of Sturm. This made it easy for Sturm to land big right hands to the side and back of Barker's head. After the 2nd big right hand on the back of Barker's head, he hit the canvas in a heap. He got back to his feet but he was on rubber legs and there was no way he was going to make it out of the round unless Sturm stopped punching. Sturm obviously didn't do that, and he poured it on, knocking Barker down with another right hand.
After the fight, Sturm said he's be open to fighting Barker again and come to the UK to repay him. However, with Barker suffering another dislocated hip, Barker's career may be over. Coming back from one dislocated hip is tough, but a second one. That a traumatic injury for an athlete to suffer and it might be a sign that Barker should retire. It's obviously going to take a long, long time for Barker to recover from this injury and I'm not so sure that he should take the risk of coming back from it.
—
Other action on the card –
Susi Kentikian W 10 Simona Galassi
Konni Konrad TKO 5 Leo Tchoula
Alex Born W 4 Vladimir Fecko
Adnan Redzovic W 10 Igor Pylypenko
Arman Torosyan W TKO3 Dzianis Makar
Maurice Weber W TKO3 Volodymyr Borovskyy