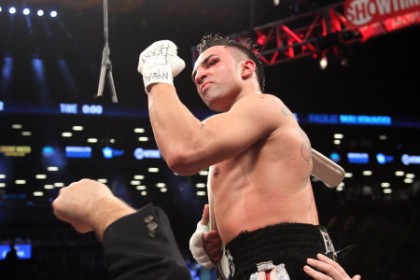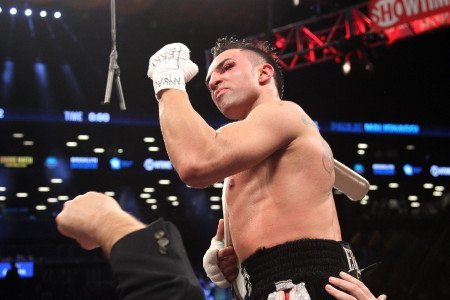 (Photo credit: Tom Casino/Showtime) Zab Judah (42-9, 29 KO's) scored a knockdown in the 2nd round, and then pretty much disappeared in the fight in losing by a 12 round unanimous to Paulie Malignaggi (33-5, 7 KO's) at the Barclays Center, in Brooklyn, New York. Following a knockdown of Malignaggi in the 2nd, Judah seemed to shift his offense into neutral for the remainder of the fight, as he focused entirely on defense.
It was almost as if Judah had suffered an injury because he just shut down completely and let Malignaggi run away with the fight. For a fan of boxing and entertaining fight due to Judah's lack of aggression. The judges scored it 116-111, 117-110, and 117-110.
I hope Malignaggi fights someone with a little more enthusiasm next time because this was an awful performance from Judah.
—
In the co-feature, Shawn Porter (23-0-1, 14 KO's) defeated IBF welterweight champion Devon Alexander (25-2, 14 KO's) by a 12 round unanimous decision to capture Alexander's IBF 147 lb. title. The judges scored it 115-113, 116-112 and 116-112. Porter hurt Alexander several times in the fight with right hands. He also rammed heads with Alexander countless times with his charging attacks. I lost track of all the times that Porter rammed Alexander with his head while running forward. The smothering worked well for Porter because Alexander didn't have the sense to move laterally when Porter would charge forward like a billy goat, and this enabled Porter to nail Alexander and again.
Alexander seemed to get more comfortable after the 4th and he started catching Porter with nice shots when he'd charge him with his head down. However, Porter wore Alexander down with his attacks and he was able to hurt him later in the fight. All the wrestling and grappling that Porter did took it's toll on Alexander in the late rounds.
—
In a fight for the vacant WBA junior middleweight title, Cuban Erislandy Lara (19-1-2, 12 KO's) dominated a reluctant overly cautious Austin Trout (26-2, 14 KO's) in beating him by a 12 round unanimous decision. The judges scored the fight 118-109, 117-110, 117-110. In the 11th, Lara knocked Trout down with a straight left hand while he was crouching down. The shot badly hurt Trout, and he was staggering after he got back to his feet. Lara was unable to finish Trout after the knockdown.
Lara was just too fast for Trout, and he was able to tag him with shots all throughout the fight. There wasn't much action to speak of, and the fans booed basically every round of the fight. Lara ran a lot and just didn't seem like he wanted to take any chance.s
It's going to be interesting to see if Showtime agrees to have Lara on future cards because of how dull this fight was. It so incredibly dull that even though Lara won by lopsided decision you have to wonder whether he'll be on the future cards unless he's buried in the non-television parts of cards.
—
WBC super middleweight champion Sakio Bika (35-2-2, 21 KO's) had one of the toughest fights of his career in fighting to a 12 round draw against Anthony Dirrell (26-1, 22 KO's). Bika was knocked to the canvas in the 5th after getting hit with a tremendous right hand from the speedy Dirrell. Bika showed good recuperative powers and was able to come back from the knockdown to dominate most of the remaining rounds to win by the judges scores of 114-112 for Bika, 116-110 for Dirrell, and 113-113 even.
Bika roughed up Dirrell after the knockdown, and eventually Bika got a little out of hand with his rough stuff because he lost a point due to a low blow in the 11th round.
—
Other action on the card:
Sadam Ali TKO 6 Jesus Selig
Marcus Browne TKO 1 Kevin Engel
Juan Dominguez UD 8 Camilio Perez