It's been confirmed that former WBO Heavyweight Champion Corrie "The Sniper" Sanders has died this morning after being shot in the stomach at the "Thatch Haven Restaurant" just outside of Pretoria, South Africa.
The 47 year old southpaw was attending his nephew's 21 st Birthday party when three unknown assailants entered the restaurant and robbed several customers before opening fire in and outside of the establishment.
The proprietor of the establishment, Johan de Jager, described what transpired yesterday evening at 8PM SAST (South Africa Standard Time), which is six hours ahead of Eastern Standard Time.
"Three guys came inside and just started shooting. Unfortunately during the shooting, they shot Corrie."
The hard punching Heavyweight was rushed to Kalafong Hospital for emergency surgery but died at 4AM SAST this morning due to complications associated with the injury.
Former trainer Harold Volbrecht was understandably emotional when news of his fighter's passing had been publicized
"This is very sad. My heart is broken. It's just terrible. I can't believe this has happened."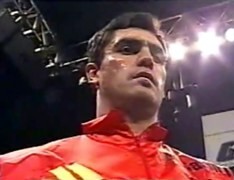 The self admitted underachiever was best known by boxing fans for his sledgehammer left hand and his ability to slip and counter opposition at close range. With natural athleticism and heavy hands, the South African native acknowledged that he never truly reached his full potential in the sport of boxing.
His crowning achievement as a prizefighter was dropping current Heavyweight Champion Wladimir Klitschko four times en route to winning the WBO Heavyweight Championship in Hanover, Germany on March 8 th , 2003. The Sniper overwhelmed Klitschko with his unique blend of speed and power, and ultimately won the title by way of sensational 2 nd round knock-out.
Sanders vacated the WBO title in December of 2003 to compete for Lennox Lewis' vacant WBC Heavyweight title. In a brave but eventual losing effort, Corrie was stopped by Wladimir's brother, Vitali Klitschko, in eight rounds of a Heavyweight slugfest that took place at the Staples Center in Los Angeles, California on April 24 th , 2004.
After the bout, referee Jon Schorle called Corrie Sanders' courageous effort against Vitali Klitschko, "one of the bravest performances I was ever privileged to be a part of".
Sanders officially announced his retirement from boxing on May 12th, 2007, after being stopped by fellow South African Osborne Machimana in the first round of a twelve round contest for the South African Heavyweight Championship.
Thoughts and prayers go out to the family and friends of possibly the hardest punching southpaw in the history of the Heavyweight division.
Corrie Sanders; dead at the age of 47 (January 7 th , 1966 – September 23, 2012)
Rest in Peace, Champ!! And may God favor your soul!!