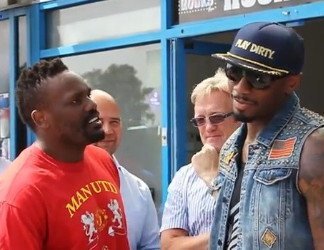 Dereck Chisora (16-4, 10 KO's) has a tough fight on his hands against undefeated American heavyweight Malik Scott (35-0-1, 12 KO's) this Saturday night in London, UK. The fight is scheduled for 10 rounds instead of 12, so that's something that could possibly help Chisora because he's not going to be able to out-box a fighter like Scott.
Chisora believes it's going to be a fairly easy fight, but his recent performances don't suggest that's possible.
Chisora said to the Telegraph, "I'm going to do a real good job on this boy and pack him back off to America, defeated…I'm happy now that I've looked into his eyes and I see the boy is scared."
The 32-year-old Scott is actually three years older than the 29-year-old Chisora, so it's difficult to figure why Chisora is calling him a boy.
Having seen Chisora struggle to beat journeyman Hector Alfredo Avila last April, I can't see Chisora having an easy time against Scott.
Chisora looked terrible against Avila, like he'd regressed badly as a fighter to a much earlier stage of development. Chisora was at his best in his losses to Robert Helenius and Vitali Klitschko, but he looked like a shot fighter in his 5th round knockout loss to David Haye last year in July, and in his 9th round TKO win over Avila.
I'm not sure what happened to Chisora, but maybe he's not training hard enough or it could be that he took too many head shots in his loss to Vitali. Chisora was hit a lot by Vitali last year in losing by a lopsided 12 round unanimous decision. I lost track of all the right hand shots that Vitali landed cleanly to Chisora's head.
Scott has got a great jab and he might not need anything more than that to beat Chisora. He's not going to let him way in and set up shop on the inside the way that Helenous and Sam Sexton did. Scott will keep jabbing and moving, and he's not going to let Chisora beat him that way.
If Chisora is going to beat Scott, he's going to have to do it by outworking him from the outside. I'm not sure if Chisora can do that because he's a one punch at a time type of a fighter, and he's not going to be able to get the better of Scott with that style.