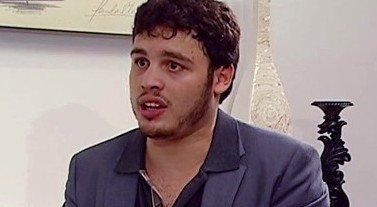 Former WBC middleweight champion Julio Cesar Chavez Jr. (46-1, 32 KO's) says he wants to face WBA middleweight champion Gennady Golovkin (27-0, 24 KO's) at 168 lbs, and he thinks he's can KO him if the fight gets made, according to The Record. Chavez Jr. might be open to fighting Golovkin at 160, but he prefers 168 so that he'll be full strength.
Chavez Jr. said to The Record "It could also be at middleweight [in facing Golovkin], but it would be better in between or at 168 because I struggle with the weight and I'm stronger when I go up. I think I can knock him out."
Chavez Jr. has a planned fight coming up in September against Brian Vera that could take place in Los Angeles, California at the Staples Center.
Once that fight is over, Chavez Jr. doesn't have anything scheduled, although a rematch against Sergio Martinez would seem like the logical option for the 27-year-old fighter.
It's unclear whether Chavez Jr's promoter Bob Arum would let Chavez Jr. face a dangerous puncher like Golovkin no matter how much he may want that fight. It's not a problem in terms of the promotional companies because Golovkin is promoted by K2, and there wouldn't be the issues with Top Rank vs. Golden Boy in a fight like this, but you don't know what Arum will say about a potential Chavez Jr. vs. Golovkin fight.
He might not like the idea because if Chavez Jr. was easily beaten by Sergio Martinez by a lopsided 12 round unanimous decision last year, then what is Chavez Jr's chances against an even better fighter like Golovkin. I think they couldn't be good. Golovkin can do the same thing that Sergio did as far as out-boxing Chavez Jr., but he would make it much tougher for him with his big power and body punching.
Chavez Jr's best tested to the head a lot by punchers, but he's not faced a body puncher like Golovkin, and that could be the one area where we see Chavez Jr. hurt and possibly stopped.
If I was Chavez Jr's promoter I wouldn't let him fight Golovkin. The reason is Golovkin is clearly better than Martinez right now and he's more than capable of beating the stuffing out of a flawed fighter like Chavez Jr. even if the Mexican fighter rehydrated to 200 lbs. It doesn't matter. Golovkin would tear Chavez Jr. apart with ease and I wouldn't sign on for a fight like that. Chavez Jr. needs to rebuild his career after his loss to Martinez, and Golovkin would likely finish his career.