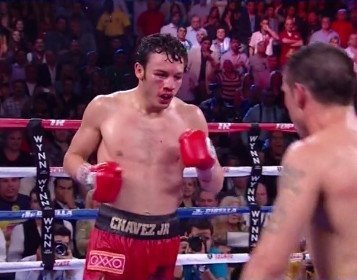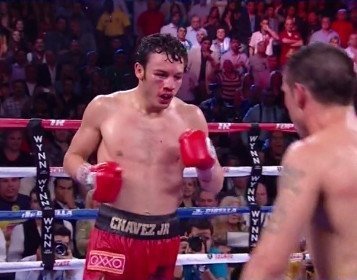 By Bill Phanco: It looks as if trainer Freddie Roach is on the way out as trainer for former WBC middleweight champion Julio Cesar Chavez Jr. (46-1-1, 32 KO's), according to Doghouseboxing.com. Roach's replacement is said to be legendary trainer Nacho Beristain, the same guy that molded Juan Manuel Marquez's career.
Chavez Jr. returning to the ring in May could hinge on his upcoming suspension by the Nevada State Athletic Commission for him testing positive for marijuana for his last fight in September. If the commission gives him a lengthy suspension then the May fight date obviously won't happen. However, he's expected to receive a shorter six month or less retroactive suspension and that would enable him to fight because the suspension will have started from September 2012. Matthew Macklin is one of the possible opponents that Chavez Jr. could face if he returns to the ring in May. If Chavez Jr. wins his next fight, he'll be meeting Sergio Martinez in a rematch in September 2013.
Roach did a pretty good job as Chavez Jr's trainer. There was only that one loss that Chavez Jr. suffered recently to Sergio Martinez that marred Roach's otherwise near perfect job with Chavez Jr. Unfortunately, there wasn't a lot that Roach could do with Chavez Jr. as you saw with his latest training camp for the Martinez fight.
It would have taken some courage on Roach's part to got Chavez Jr. in line during that camp, and I don't believe it would have mattered ultimately. Chavez Jr. was simply not skilled or quick enough on his feet for him to be able to beat someone as fast as agile as Martinez.
Even Beristain is going to have problems making Chavez Jr. quick enough on his feet to beat the likes of Martinez, because he's too big of a fighter. You can't ask a fighter that comes into his fights in the 180s, and fights flat-footed, to move around the ring for 12 rounds.
It's not going to happen. You have to be born with ability to do things like that, and Chavez Jr. is just too much of a heavy-bodied fighter to be able to deal with Martinez's movement. If Chavez Jr's does go with Beristain all you can hope is that he doesn't move on quickly and look for another trainer if he doesn't beat Martinez in the rematch, because I don't think he's capable of beating him other than by getting lucky and knocking him out.
Can that happen? Yes, but the odds aren't good and I don't think Beristain will be able to change the outcome much. Chavez Jr. is too much of a plodder and you can't turn a near 190 pound fighter into a fast mover, because he's too heavy and he's fighting in the wrong division. As big as Chavez Jr is, he should be in the cruiserweight or light heavyweight division where the fighters are slower on their feet than at middleweight.
Chavez Jr. has some kind of knack for making weight to squeeze into the middleweight division somehow, and that gives him a big advantage against the middleweights that have little mobility. Without a small ring to trap a mobile fighter, Chavez Jr. is going to continue to have problems each time he faces someone that can move a little around the ring and has good hand speed.
He's fortunate right now that the middleweight is so awful because if he were to move to super middleweight, he'd there's a lot of fighters with excellent movement like Sergio Martinez, and he might not have a place there.