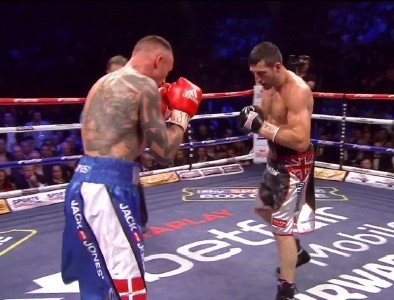 IBF/WBA super-middleweight king Carl Froch is confident he will defeat unbeaten George Groves in the all-British showdown set for November 23rd; with "The Cobra" believing he will get the job done inside the distance. And the 36-year-old is already eyeing an even bigger fight for himself, to take place in Las Vegas.
Speaking with U.K tabloid The Sun, Froch revealed how his promoter Eddie Hearn has been talking to HBO about him facing either Julio Cesar Chavez or Gennady Golovkin.
"It's potentially one of the biggest fights to happen in the last decade," Froch said of his possible fight with Chavez Junior or Golovkin. "I'm told my promoter Eddie Hearn has already spoken to HBO about a big fight against Chavez Junior. But, from what I understand, HBO are more interested to see me in against Golovkin because there are not too many willing to fight him. Sure, Golovkin is frightening, but I fear no man. It would be an unbelievable fight that would get everybody excited – him or Chavez Junior."
The thought of iron-chinned Froch going to war with the unbeaten banger known as "GGG" is enough to set the pulse of a fight fan racing. While the idea of a Froch-Chavez Junior showdown also has its appeal. And Las Vegas, the glitzy capital of boxing, seems to be a place where the always-exciting Froch was born to fight.
Froch must see off a determined and confident Groves first, while 31-year-old Golovkin has to defeat another very live underdog in the form of Curtis Stevens in his next fight. But then, if a deal can be made, Froch Vs. Golovkin could be a huge highlight of next year.
Without being guilty of over hyping the possible/potential thriller that is Froch-Golovkin, this battle, either at 168 or at a catch-weight somewhere in between middleweight and super-middleweight, really could be – almost certainly would be – a FOTY award winner. Golovkin, 27-0(24) is as classy as he is wickedly powerful, while Froch is as rugged as he is blessed with the ability to flatten a foe.
At this point in time, when we analyse the pro careers of both fighters, Froch is the more proven warrior (wins over top-notch guys named Bute, Taylor, Kessler) but former amateur standout and reigning WBA middleweight champion Golovkin isn't far behind. Would Froch, 31-2(22) have too many miles on the clock by the time the fight rolled around somewhere in 2014, by which time the Nottingham man will be at age 37? Or would Froch – a fighter who must never, ever be underestimated – ride off into the sunset with what would possibly be the biggest win of his astonishing career tucked neatly under his belt?
We fight fans, if we are lucky, will find out soon enough.