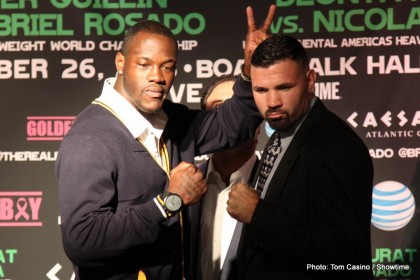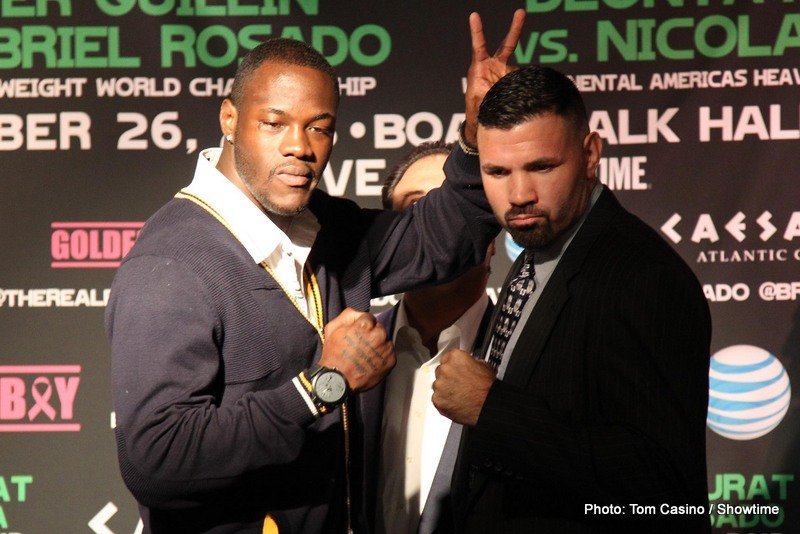 The six fighters that will be featured on the SHOWTIME CHAMPIONSHIP BOXING® telecast this Saturday night gathered with media members at Caesars Atlantic City to discuss their respective matchups. Bernard "The Alien" Hopkins, Karo Murat, Peter "Kid Chocolate" Quillin, "King" Gabriel Rosado, Deontay "Bronze Bomber" Wilder and Nicolai Firtha answered questions candidly about the in-ring challenges taking place at Boardwalk Hall on Saturday night.
Deontay Wilder, WBC Continental Americas Heavyweight Champion
"I know that Firtha doesn't move his head and that's a dangerous thing to do, especially in the heavyweight division and with a puncher like me. To his credit, when he comes he comes to fight.
"I can take this opportunity as a blessing or be scared and be a participant like my opponents have done. But I fear no man. I only fear God.
"If he goes hard, I will go harder.
"If I am fighting for another person than that makes me fight harder. I don't want to let that person down. I don't like that feeling of letting anybody down."
Bernard "The Alien" Hopkins, IBF Light Heavyweight World Champion
"Coming to Atlantic City brings out a lot of emotions in me. To be back here, healthy with a legacy and doing historic things is a blessing.
"I am motivated by being in a place where it all began. There is extra energy for me to give serious beat downs here.
"Karo Murat is hoping, like others before him, that he is lucky enough that I got old in the gym.
"There's no magic spell that hits you over the head that says, 'You're old.'
"As far as I'm concerned, old to me is not old to the average person. What is old?
"I'm getting the interest on the investment I have made in my personal life.
"I'm not just fighting Karo Murat. I'm fighting politics. I made a 360-degree turn. I'm back in Atlantic City. I've been here a few times. You hear Hopkins and Mayweather. You hear Hopkins fighting other light heavyweights. People want to put a time frame on what you're supposed to be doing.
"I remember everything about the Clinton Mitchell fight [Hopkins' professional debut]…I remember I lost.
"How many urban stories have ended up like mine? How I have been disciplined in the gym and in business.
"Some people might get tired of hearing me talk, but not the young ones, the young boxers. I can tell they don't get tired of hearing me talk to them.
"My fight [Saturday night] is another page of my legacy. We want people to think this is a tough fight, but it's a fight that is going to lead to bigger things."
Karo Murat, Top Light Heavyweight Contender
"I had a lot of practice in Germany and in many of my other fights. This is a fight against a legend, but I can handle it.
"I think it is a sign from God that I am here to end Bernard's career. He is an old man and needs to stop now.
"I know that I don't have to knock Bernard out in order to get a fair decision in America.
"I don't have a strategy. I will see during the fight what I can do to beat Hopkins.
"The biggest crowd I have fought in front of was 6,000 people."
Peter Quillin, WBO Middleweight World Champion
"Sometimes you work so hard you surprise yourself, but it's not for you to be over confident. You have to continue to work hard.
"It's important not to look ahead and to stay present and focus on the now.
"I look at myself like a more polished champion because I wouldn't be here if God didn't want me to be.
"I learned early in my career that every fighter has small window to make money and you need to make sure to save your money, pay your taxes and set yourself up for the future.
"Rosado is still trying to find himself out. He lost already; he took some bumps in roads with losses.
"Nothing that Rosado does in the ring is going to be good enough.
"When I get in the ring my trunks are my office suit. Outside of the ring I have the business suit on.
"I want to challenge myself to go to every level I possibly can and challenge my own records."
"I don't know how to speak about any other story besides establishing myself and explain myself through these [holding fists up].
"Before I fight I say to myself I'm already ready. Let me get more ready."
Gabriel Rosado, Top Middleweight Contender
"I will fight in my back yard or in anyone's back yard. I am comfortable fighting anywhere.
"I have a lot of people that have shown me love faithfully since the beginning, so what I do is buy 50 tickets and give them to those who have been there supporting me along the way."
"I know I will have a lot of opportunities to take advantage of Quillin in the ring because not only did I study him in his past fight but I also studied my past fight and looked for ways to improve my fight.
"Without a doubt I have fought the bigger names like Soto-Karass and Kassim Ouma.
I have the better names on my record.
"It's going to be a great fight …Its about who is the smarter guy."
"I feel really great about this camp and sparred with three guys that weighed 190 lbs. My strength and conditioning coach [Jason Sargus] are working together again and I feel really strong and prepared.
"I think if I would have had everything along the way handed to me on a silver platter, I wouldn't be here. The route that I took makes me what I am today. I am a lot more mature now. I am turning 28 years old and I feel that mentally I am at a stage that I have never been at in my career. I want to be a world champion
[On his personal life and his career] "The adversity I went through would break most men but it made me better."
"Kid Chocolate has been on my mind for a while. I have never called him out because I wanted it to play out naturally and get the fight.
"I am fighting Kid Chocolate because I want this fight. I expect him to bring his A-game. I am ready for his fight."
Nicolai Firtha, Heavyweight Contender
"Before you compete against the best, you don't know if you can beat them. You don't know until you actually fight them.
"I want my abilities, tools and skills to speak for me. Not only can I fight the best, but I can beat the best.
"I don't take his [Wilder's] record lightly at all. He has done what he has to do in serious fashion.
"I will have a very serious problem dealing with Deontay's power if I stand there in his way to be hit.
"My trainer tells me to use my good jab and my movement to my advantage."