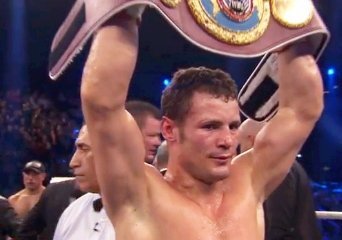 By Jeff Sorby: You've got to give Robert Stieglitz (44-3, 25 KO's) a ton of credit tonight for putting together the perfect game plan to stop WBO super middleweight champion Arthur Abraham (36-4, 28 KO's) in the 4th round in Magdeburg, Germany. Stieglitz's plan was a simple one. Come out fast and overwhelm Abraham's turtle shell defense with punches in the first part of the fight.
It worked out perfectly, as Abraham ended up being stopped from a badly swollen left eye after the 3rd round had ended. Abraham's habit of just covering up in his turtle shell defense to save energy for the later rounds ended up backfiring on him.
Stieglitz came out with a blitzkrieg attack and was all over Abraham and his turtle defense, causing him to sustain too much damage to even make into the later rounds. It was a brilliant strategy for Stieglitz, and also a risky one because he could have potentially tired out after four or five rounds, and a well-rested Abraham would have had him at his mercy.
Abraham looked like he couldn't shift into 1st gear. He just covered up, and waited and waited for Stieglitz to stop punching. Abraham had done this in the Super Six tournament against Andre Ward, Andre Dirrell and Carl Froch, and it had cost him those fights. You'd have thought that Abraham would have learned from those defeats that he can't just cover up in his turtle shell waiting for his opponents to stop punching because the chances of him sustaining damage are too high.
Abraham did try to go on the attack at the end of the 2nd round, but he missed almost every shot he threw, and he was fighting with anger instead of intelligence. Abraham continued to fight with anger in the 3rd round with his rabbit punches he landed in the clinch. The referee tried to warn Abraham, but he didn't pay attention and he finally lost a point.
There's already talk of a third fight between Abraham and Stieglitz. Tonight's fight was a mandatory for Abraham, so it's definitely possible for them to fight again as long as Abraham didn't sustain too much damage to his left eye. It might be in Abraham's best interest not to fight Stieglitz immediately because he needs to get his confidence back, and Stieglitz would likely jump in the same manner he did tonight.