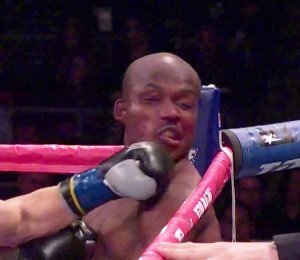 HBO will be televising the replay of the March 16th fight between WBO welterweight champion Tim Bradley (30-0, 12 KO's) and Ruslan Provodnikov (22-2, 15 KO's) in their fight from the Home Depot Center in Carson, California. The fight was an exciting one from start to finish with Bradley getting hurt badly on four separate occasions, yet still winning the fight by a 12 round unanimous decision by the scores of 115-112, 114-113 and 114-113.
HBO will replay the fight at 10:35 p.m. ET/PT. Additionally, HBO will be televising a replay of Road to Rios-Alvarado II immediately following the Bradley-Provodnikov replay.
There was a bit of controversy about the Bradley vs. Provodnikov fight in that the referee failed to score 10-8 rounds in the 1st, 2nd and 6th rounds when Bradley was badly hurt. It looked like Bradley was knocked down in the 1st round when he hit the canvas, and then fell down when he tried to get back to his feet.
It's one thing to not rule it a knockdown, but when you see a badly hurt fighter unable to get back to his feet like that you would have thought that the referee would have scored it a knockdown because Bradley was clearly badly hurt.
In the 2nd round, Bradley was knocked into the ropes by a hard right hand, and ropes kept Bradley from falling. Again, this was a judgment call on the referee's part in choosing not to rule it a knockout, but it sure did look like Bradley would have fell flat on his back had the ropes not been there to keep him upright.
Boxing fans want to see a rematch between Bradley and Provodnikov to see them go at it again, but Bradley's promoter Bob Arum says he doesn't like to do rematches. So he's going to move Bradley ahead and have him fight Manny Pacquiao, Juan Manuel Marquez or the winner of the Brandon Rios vs. Mike Alvarado fight. As for Provodnikov, he'll likely get the loser of the Rios-Alvarado fight if it's Alvarado. Rios vs. Provodnikov isn't going to happen. Arum has more important things in store for Rios regardless of what happens in the Alvarado rematch on March 30th.