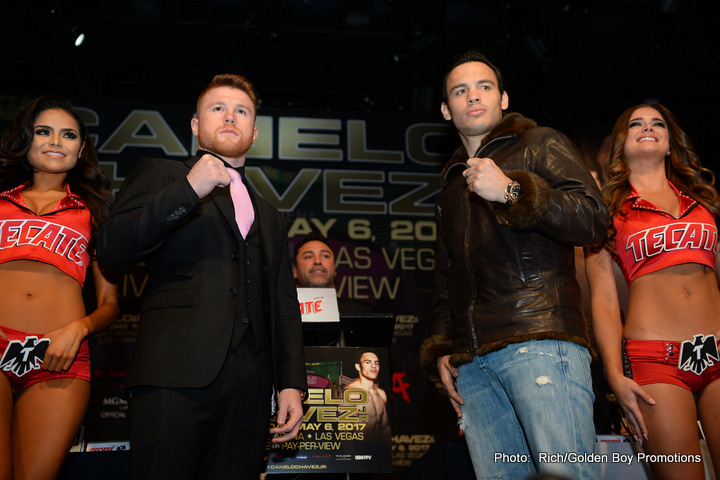 Both the ongoing press tour for the big Canelo Alvarez-Julio Cesar Chavez Jnr showdown and the fight itself just got even more interesting. The two Mexican stars, appearing on Univision's Despierta America TV show, bet their fight purses in a bold winner takes all move.
Canelo, who already feels the May 6 catch-weight fight is "personal," felt slighted when he heard how Chavez Jr. had predicted that he would KO him inside eight rounds. In response, Canelo agreed to the audacious bet with his rival countryman.
"I saw him in a video saying that I have not fought with anyone, if he is so sure he is going to win the fight with me, that he is going to knock me out in eight rounds, I bet his bag that he does not beat me," Canelo said, angrily.
Oscar De La Hoya wasted no time in taking to twitter, writing how:
"Things just got real..@Canelo and @JCChavezjr just bet their purses on live TV!"
These two Mexican warriors, both appearing to be close to fighting shape already, genuinely believe they will come out victorious in the massive fight all of their country will be watching over Cinco de Mayo weekend. Chavez, the heaviest, possibly strongest opponent yet for Canelo – who has never before boxed above 154 pounds – has well and truly put his money where his mouth is with this bet. Both fighters have in fact.
Chavez is also unworried about the hefty fines he would have to pay for every pound he comes in over the agreed catch-weigh limit of 164.5 pounds. Chavez, putting the hard work in, is sure he will make the agreed poundage.
But who will take the combined cash of the two fight purses? This fight, when first announced, was generally looked at by most fans as a definite win for Canelo. The younger, fresher man may still emerge victorious, but more and more there is something suggesting that this fight will be a great one.
Can Chavez pull off the upset and leave Canelo out of pocket!