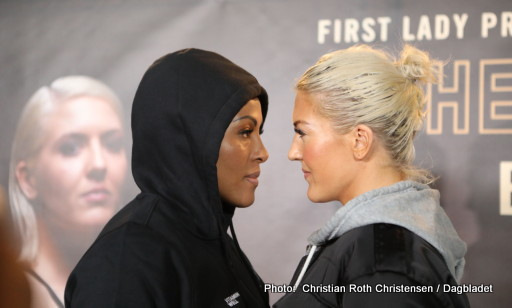 Undisputed Women's Welterweight World Champion CECILIA BRAEKHUS, (29-0-0, 8 KO's) defends her titles (WBC, WBA, WBO, IBF, IBO) tomorrow, Friday night, February 24 against KLARA SVENSSON, (17-1-0, 5KO's) at the Oslo Spektrum in Oslo, Norway.
Both participants weighed in on Thursday, Braekhus at 146.8 and Svensson at 144.6 for their scheduled 10-round bout. The bout was originally scheduled for January 28 but was pushed back four weeks due to a bout of the flu contracted by Braekhus. A sold-out crowd of over 10,000 is expected.
"There's been some unnecessary and unexpected drama during this fight week," said Braekhus, recognized universally as the #1 Women's Pound-for-Pound Fighter in the World.
"All I want to do is fight but Svensson fights for my old promoter (Sauerland Promotions) and they're not quite over that I left them to form my own company, First Lady Promotions and to work with K2 Promotions."
"But now we're all weighed in and we have only the fight to look forward to. I'm just so thrilled to be fighting back home again in Oslo, back at the Spektrum, it's such a great feeling, the entire country is behind me."
"Camp has been terrific with Johnathon Banks, this is our third fight together but we've been working together for about two years. I feel much more aggressive, looking for those power punches and focusing on punishing my opponent. I've kept some of my European style but now I'm fighting more like an American fighter."
https://www.youtube.com/watch?v=vTd4xbYDqdY
"Maybe Johnathon is turning me into a Detroit fighter!"
Through Braekhus' extensive lobbying work over the last several years, Norway lifted their 33-year ban on professional boxing in 2015. On October 1, 2016, Braekhus was finally able to fight in her home country, knocking out Anne Sophie Mathis in the second round, a national event that captivated the entire country.
Former Brækhus coach agrees to help Svensson
Cecilia Brækhus' (29-0, 8 KOs) former coach Ulli Wegner has hit out at the female pound-for-pound star as she prepares to defend her Unified World Welterweight titles against Klara Svensson (17-1, 5 KOs) on Friday at the Spektrum in Oslo.
The legendary German coach, who took Brækhus from a novice to World Champion, is upset with comments the 35 year-old made about her new training set up, and has already offered his advice to Svensson's coach Joey Gamache.
''Cecilia is an outstanding talent – no doubt,'' said Wegner. ''When I started training her she was really raw but she listened to my advice and she became the best female boxer in the World.
''Therefore, I can only shake my head when Cecilia says that finally she has a good boxing coach. Shame on her! Deep down she must know who to thank for this great career.
"If anyone knows the key to defeating Cecilia it's me, and I've given Joey Gamache my advice. His fighter is in for a tough fight, no doubt, but at this stage of her career, there are question marks over Cecilia's stamina and athleticism, and Klara must test these.
''Cecilia will also want to make a statement against the young challenger, and that will put more pressure on her, whereas Klara has no pressure on her and that's an advantage.
https://www.youtube.com/watch?v=YL91exvAmDs
''I believe Cecilia reached her climax under my tutelage and I don't think that she's still on that level. I've not seen any improvement in her last few fight because all I've seen are a few rounds against over-the-hill fighters and you can't live up to your potential against these types of opponents.
The 74 year-old has also hinted at taking a more hands on role for the fight:
''I hear Oslo is nice this time of year, so who knows, maybe I'll make the trip over!''
The Unified Female World Welterweight Championship clash between Cecilia Brækhus and Klara Svensson is available live and exclusive on Viaplay PPV. For more information please visit www.viaplay.se/ppv
Svensson believes time is right to dethrone pound-for-pound queen Braekhus
Klara Svensson (17-1, 5 KOs) believes the time is right for her to dethrone the reigning pound-for-pound number one Cecilia Brækhus (29-0, 8 KOs) when the Scandinavian stars meet for the Unified World Welterweight titles on Friday night at the Oslo Spektrum.
Svensson will enter the lion's den to face Brækhus in front of her home fans in the Norwegian capital, where despite being the away fighter, 'The Swedish Princess' is confident she can upset the odds and secure a historic victory.
''This is something I've always wanted to do,'' says Svensson. ''It's not every day you get the chance to fight away from home on a massive show like this. So for me, it's definitely not a negative to be fighting Cecilia on her home turf.
''I know she's extremely popular in Norway, so I'm not expecting much of the attention to be on me, but I'm just here to do the business, and I'm going to take all of that energy and use it my advantage.
''I feel like a lot of people don't really think that I have much of a chance, which is more motivating than anything for me, and I can't wait to prove everyone wrong. I don't think she's faced anyone with my experience or background, so it's going to be really different fight for her this time.
''There is definitely a sense of freedom for me. All the pressure is on Cecilia. The feeling of being the underdog is not something I have experienced for a long time and it's a nice feeling actually.
''In Oslo, we are going to see an upset. I'm going to upset the whole Norwegian population. I know everybody is really proud of Cecilia and her accomplishments, and so should they be, but she's not going to stay undefeated on the 24th.
''I feel like there couldn't possibly be a better timing for me. Three years ago I would have been too inexperienced, but now I'm ready. I'm not here just to here to challenge her, I'm here to hurt her and to take her titles.''
Svensson has been known to get fired up before fights. A bad-blooded build up to her Swedish showdown with Mikaela Laurén saw the Malmo boxer spank her opponent at the weigh-in.
Asked whether we can expect any altercations with Brækhus during next week's media events, she said: ''I think that's something you just take in the heat of the moment. You cannot plan these things, but we'll see!''
The Unified Female World Welterweight Championship contest between Cecilia Brækhus and Klara Svensson is available live and exclusive on Viaplay PPV. For more information please visit: http://www.viaplay.se/ppv
Gamache: ''Brækhus is on the decline, Svensson ready to pull off upset!
Joey Gamache believes Klara Svensson (17-1, 5 KOs) is ready to pull off an upset when she challenges female pound-for-pound number one Cecilia Brækhus (29-0, 8 KOs) on Friday, February 24 at the Oslo Spektrum in Norway.
In a hotly anticipated Scandinavian showdown, Svensson, from Malmo, Sweden, will attempt to wrestle the WBC, WBA, IBF, WBO and IBO World Welterweight titles from Brækhus, and inflict the Bergen-boxer's first career defeat.
Svensson's coach, Gamache, the former two-time World Champion turned trainer, says, with Brækhus on the decline, the time is right for his fighter to dethrone the reigning welterweight queen and take her place at the top of the division.
''Klara is ready to pull off an upset,'' he says. ''She's in great shape, her technique is there, and she knows what she's got to do. She might be the underdog, but she's a live underdog, and she's coming to win.
''Cecilia has been a great champion but she's on the way out. She's not getting any younger, and since she's started working with Jonathan Banks and trying to be a promoter, things have started to change and there's more pressure on her now.
''They say if it ain't broke don't fix it! She had a great coach in Ulli Wegner and everything worked well to get her to where she is today, but now with Banks, she's trying to change her style and she's getting hit a lot more, which is going to work to our advantage.
''Klara is not going to fight like those other girls Cecilia's fought, she's better than that. For her, this fight is the opportunity of a lifetime. She's got everything to gain and nothing to lose. I just feel that, with Banks, Cecilia is not the fighter she used to be, and my girl is getting better and better. The time is right and Klara is ready to take those titles!''
Gamache has also accused Brækhus of using dirty tactics in previous bouts, and says he will be speaking to the referee to ensure they do not go unnoticed against Svensson.
''Cecilia does a lot of illegal things in the ring, and I'm going to make sure the referee is aware of this at the rules meeting,'' he says. ''There are a number of different things she has been getting away with in the past, but not this time!''
The Unified Female World Welterweight Championship contest between Cecilia Brækhus and Klara Svensson is available live and exclusive on Viaplay PPV. For more information please visit: http://www.viaplay.se/ppv