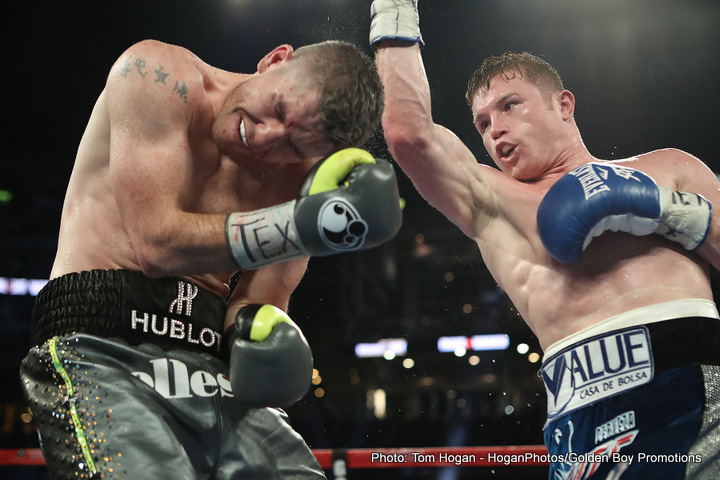 As expected, the big talking point after Canelo Alvarez' challenge of WBO 154-pound champ Liam Smith was not the result – a dominant 9th-round KO win by the Mexican star – it wasn't the bravery of the vanquished Smith, and the talking point wasn't Canelo's overall performance. No, the big talking point was, and is, will Canelo now fight middleweight king Gennady Golovkin next?
And in speaking after his victory, Canelo, who also revealed he hurt his right hand in the early going of the Smith fight, said Golden Boy offered GGG a deal "about a month ago." According to Canelo, the offer was "twice or three times as much [money] to make the fight. He didn't want to accept."
GGG has responded to these claims via his twitter page, writing: "I didn't expect that Smith punched so hard and that Canelo would talk that nonsense after the fight."
Canelo insisted in the post-fight interview that he is "ready" for him. Canelo says that he "fears no man" and that he is "the best fighter right now."
Fans are growing ever so weary of the ongoing, back and forth verbal sparring between Canelo and his team and GGG and his team. Will the fight happen next? Probably not. The verbal agreement in place is for the two big stars to meet next September, so it is unlikely to take place before then. But as long as it happens, eventually, fans will be content.
How much more time does Canelo need before he feels he is a full 160-pounder? Who will he and Golovkin fight in the meantime, before they do eventually meet next year? Billy Joe Saunders is in the running for a fight with GGG, while Canelo will possibly fight again before the year is out.
Final word has to go to the bravery and courage Smith displayed last night. He was up against it in a big way, was busted up and hurt frequently. Yet the Liverpool man was only stopped when Canelo landed a truly wicked body shot. In the end, fans witnessed a Canelo showcase, but they also saw real guts and heart.
And over 50,000 fans paid to see last night's fight; how many would show up for a Canelo-GGG super-fight!