IBF super middleweight champion Caleb Plant says he won't be fighting until he meets up with WBA/WBC champion Canelo Alvarez in September.
This is disappointing news, as the fans wanted to see Plant face David Benavidez to help make the fight with Canelo bigger for September.
Matchroom Boxing promoter Eddie Hearn says he wanted Plant to stay busy by fighting Benavidez (23-0, 20 KOs) rather than sit on the sidelines waiting passively for the Canelo clash.
Plant (21-0, 12 KOs) says he only fights twice a year, and he's already fought once in 2021 with his successful mandatory defense against Caleb Truax on January 30th.
This was the second consecutive mandatory defense for Plant, who had already defended against Vincent Feigenbutz last year in February.
Plant felt that he needed to take care of his mandatory defenses to clear his schedule to get the massive-money unification match against Canelo.
However, boxing fans believe that Plant purposefully chose to fight Truax and Feigenbutz because they were easy marks and not a threat to beating him.
Plant to wait until September
"Canelo in September, that's what we want," said Caleb Plant to iFL TV when asked when he'll be fighting next. "So I know he's got some business to attend to with a fellow countryman of yours [Billy Joe Saunders].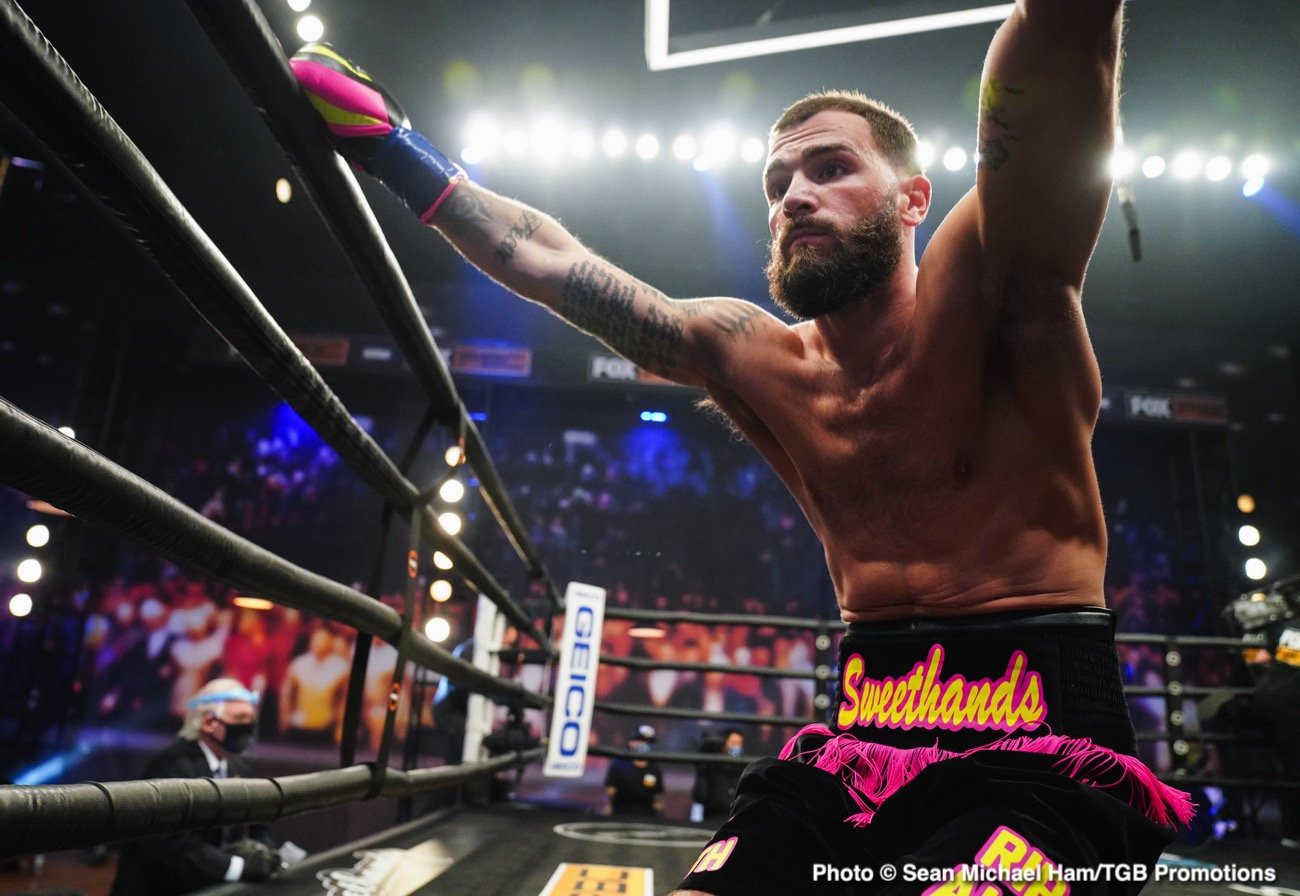 "If he can get through that, we'll give fans a historic fight, and at the end of it, they'll have their first undisputed super middleweight.
"I don't feel like I really need that," said Plant when asked if he believes that he should take a tune-up fight during the next six months to keep himself sharp for the September fight with Alvarez.
"Before this, I was fighting twice a year, and that would be twice a year [January and September] once again. I hurt my hand in the [Caleb Truax] fight. I'm making sure it's not a situation where I reinjure it. I'm ready for September; that's what I want," Plant said.
It's not that surprising that Plant isn't going to take a tune-up fight in the next six months while waiting for the Canelo match. Fans would want Plant to face Benavidez, and that would be a perilous fight for him.
To be sure, it would be a winnable one for Plant if he could avoid getting chewed up by Benavidez, but there's a good chance he would lose. Hence, Plant has decided to sit inactive for the next six months and wait until his fight with Canelo, which is too bad because it would have been great to see him in action.
Caleb expected more from Callum Smith
"I expected Canelo to do what he did, but I expected Callum [Smith] to do a little more," Plant said about Canelo's fight against Callum Smith last December.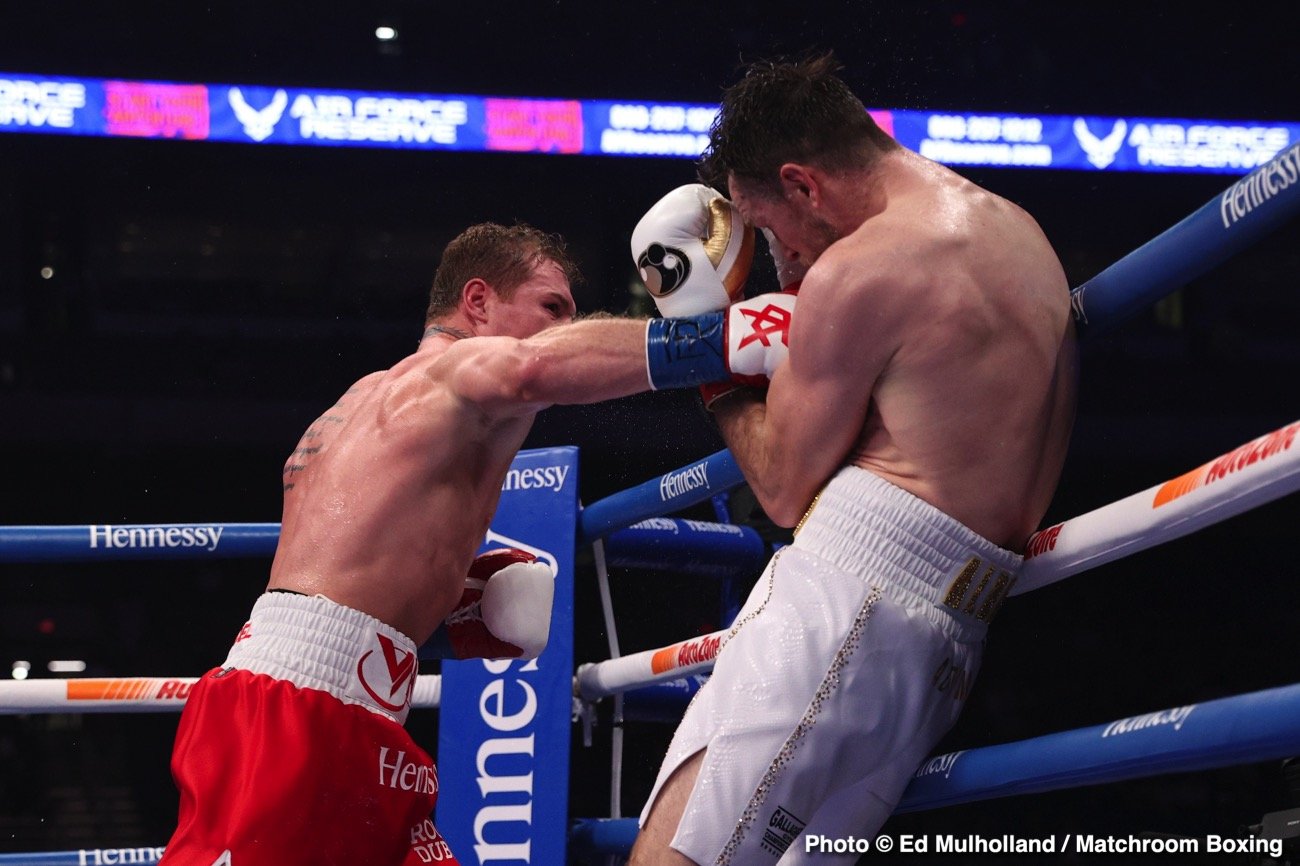 "He is a little bit of a one, two, three, A-B-C fighter. There's not a whole lot of fluidity, and sometimes he is a little stiff. But he is a big frame for 168.
"That probably has a lot to do with his frame and how big and tall and long he is.
"On top of him getting the call six weeks out or five weeks out [to fight Canelo], and only having four weeks to train, for a guy that big, it might have been difficult to make weight.
"There are a lot of variables that went into that or could have gone into that.
"I feel that he [Callum Smith] went from rope to rope and from corner to corner just kind of getting beaten up. I would never felt like any point in time where he said, 'This round, I'm going to go out here and lay it all on the line. I'm going to go out on my shield.'
"He just kind of went from rope to rope. But he still did more than [Avni] Yildirim did," Plant said about Smith.
It sounds like Caleb Plant didn't watch Callum Smith's previous fight against John Ryder before he fought Canelo.
If Plant had watched the Ryder fight, he wouldn't have expected much from Callum. Although Callum does have power, his only win over a notable fighter came against George Groves, who was coming off shoulder surgery and a long layoff.
A prime Groves likely would have beaten Smith just as badly as Canelo did, if not worse.
Saunders brings something extra
"I think he does," Plant said when asked if Billy Joe Saunders brings something extra to the table for a fight against Canelo because of his style.
"He's got some attributes to him. I would say that he has a little bit more mental grittiness than Callum or Yildirim.
"He's got to go in there and apply those things and implement those things.
"Everybody has got a chance. It's up to him to go in there and implement that game plan and do what you got to do," said Caleb.
Plant's remark about Billy Joe Saunders having a "little bit more grittiness" to him than Yildirim and Callum Smith is a back-handed compliment, as those fighters brought nothing to the table in terms of mental toughness for their respective matches against Canelo.
In looking at those two fights, Smith and Yildirim shared something in common in that neither of them went after Canelo and showed a desire to give it they're all.
Callum fought with his back against the ropes the entire 12 rounds against Canelo and soaked up a ton of punishment.
Saunders won't have to do much to put in a better effort than Smith and Yildirim against Canelo. Whether Saunders can win or not, it's unknown.
Billy Joe will have to fight a lot better against Canelo than what we've seen from him in his last three fights since moving up to 168 in 2019. Saunders hasn't looked particularly impressive in beating Martin Murray, Shefat Isufi, and Marcelo Esteban Coceres.
What's clear from watching those three contests is that Saunders isn't as effective at 168 compared to when he fought at 160. Billy Joe looks sluggish at super middleweight, and his power is inadequate.
If it weren't for Saunders being given a golden opportunity to win the vacant WBO 168-lb title against little-known Shefat Isufi, he likely wouldn't be a world champion today.
Plant wants Canelo fight on FOX PPV
If I were just in this for a money-grab, I would have taken the fight [with Canelo] on five weeks ' notice with four weeks to train as Callum did," Plant said.
"That's not my intentions here. It is about the money, but if it were only about the money, I wouldn't have made it this far. It's much more than that.
"It's about legacy. It's about cementing myself in the sport where no one can erase. I want my name to live on forever, and the way to do that is to step up and fight the best.
If you want to be the best, you've got to beat the best. If they say Canelo is the #1 pound-for-pound, then I'm here to prove I'm the best.
"There's no better platform than FOX," said Plant. "We [Canelo] can do FOX pay-per-view, and we both can come out on top in walking away with our pockets full for us.
"It shouldn't be an issue. It's not an issue on our end," said Plant.
Caleb Plant's assistance in fighting with Canelo on FOX pay-per-view could be an obstacle to making that fight.
Canelo has one fight left on his contract with DAZN against Billy Joe Saunders on May 8th.
If Canelo renews his contract with DAZN, as many believe he'll do, that could get in the way of a fight with Plant if he's going to insist on their match taking place on FOX PPV.