Josh Taylor (17-0, 13 KOs) says he believes he can win knockout WBC/WBO light welterweight champion Jose Ramirez in their fight on May 22nd in Las Vegas, Nevada on ESPN.
Taylor, 30, says he wants to go for the knockout, and he thinks he can do. A KO victory over Ramirez will be huge for his career, and a great way of making him a star in the U.S.
It's going to be harder than Taylor thinks for him to lockout Ramirez, considering he's got a tough chin, and he's not someone that you can stand in front of for long without getting clipped.
Taylor is coming off a first-round knockout of his IBF mandatory Apinun Khongsong last September.
It's not realistic to assume that Taylor will be able to do the same thing to Ramirez that he did with Khongsong, as these are two different fighters.
Khongsong is a guy that had no business being the IBF mandatory for Taylor, and that much was shown with how quickly Josh dispatched him.
Taylor predicting knockout
"I seen loads and loads of things," said Josh Taylor to Boxing Social on the flaws he observed in Jose Ramirez's game from his last fight against Viktor Postol.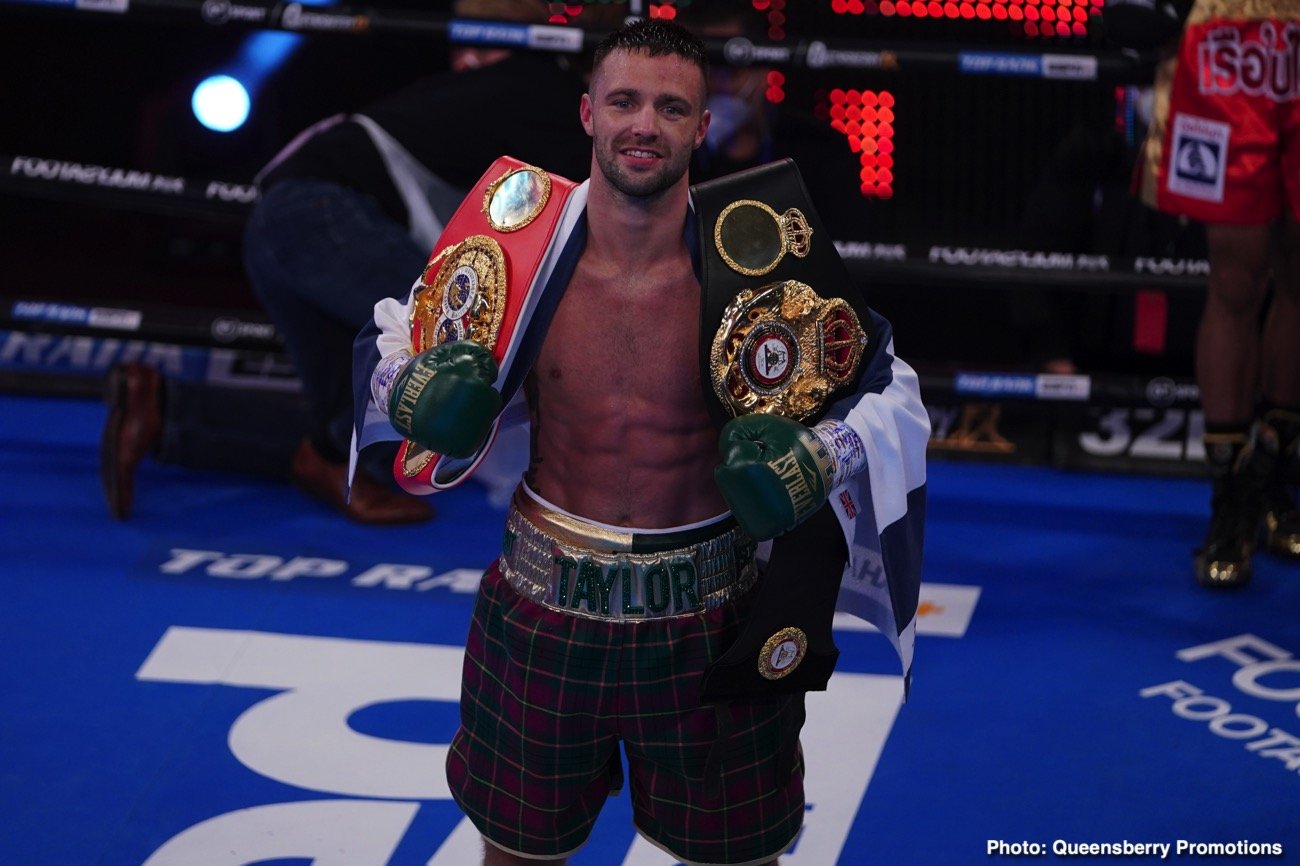 "A lot of things, mate. Yeah, I think I can win this fight. Do I think I can knock him out? Absolutely.
"Tactically, it's a completely different fight from [Regis] Prograis. Tactically, it's a wee bit straight forward than the Prograis fight. Yeah, I'm real confident of coming out on top.
"I think he'd be in awe of what he's achieved, and look at him as if to say, 'That's where I want to be in four or five years.
"If he can do it, I can do it,' sort of thing," said Josh Taylor when asked what the 2015 version of himself would think about where he's at in 2021," said Taylor.
It's going to be really hard for Taylor to knockout Ramirez, because he's got an excellent chin, and he's not someone that is easy to hit without getting beaten up.
Reflecting on his achievements
"I didn't take time to acknowledge my achievements in the sport until the lockdown when I had more time for myself," Taylor said. "I could sit and relax and have a look at my career.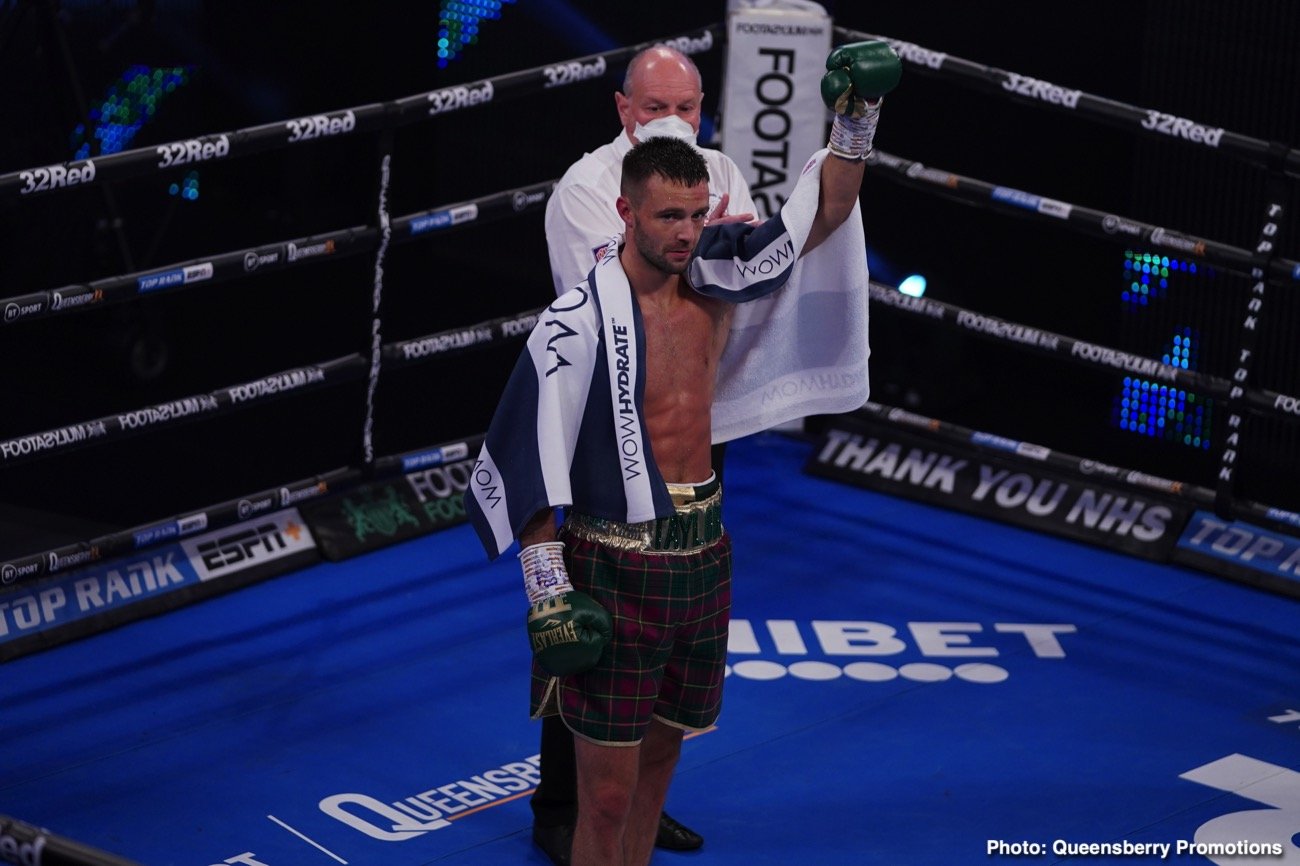 "Look at what I've done in a short space of time and what I achieved. When I was sitting in the house and looking at all the belts and thinking, 'I've done alright.'
"So yeah, a younger me would be very inspired at looking at myself now. I've not surpassed my wildest dreams, no.
"I believe this one here is my biggest dream fight to become an undisputed champion. This fight is the biggest one that I could ever imagine.
"This is one that will leave my legacy in history, and going down as one of the best fighters to do it.
"This fight for me is humongous. It's not just the fight itself, it's everything that comes with it," said Taylor.
Josh has done some good things in his career with his wins over Regis Prograis, Ivan Baranchyk, and Viktor Postol.
Those are the only notable wins of Taylor's career, which is why seems premature for him to be thinking bout his legacy right now.
It would be nice to see Taylor unify the 140-lb division, then move up to 147, and take on WBO champion Terence Crawford.
If Taylor can beat Crawford, that would be huge and it would lead to him likely facing IBF/WBC champion Errol Spence Jr.
Becoming the undisputed champion at 147 would be the type of thing that would really shape Taylor's career, giving him an incredible legacy.
Making history
"You can ask any fighter, and they'll all tell you that they'd love to fight in America," said Taylor to iFL TV. "You ask almost any fighter, and they say that they'd love to do that.
"For me to get the opportunity to do it, it's not unbelievable because I've worked hard for it. It's like, 'Wow.' I'm very lucky to be in this position, and I'm going to enjoy every minute of it.
"I'm not going to put any pressure on myself. I've achieved my goal of becoming a world champion. Everything else is a bonus if it happens.
"I really do believe this is the perfect time for me to make history and cement my legacy in the history books, and I do believe it's going to happen.
"I do believe I'm going to win this fight 100%, and American is getting ready to take notice of Josh Taylor.
"To Ramirez, be ready, train hard, may the best man win. I wish him all the best. I see you on May 22nd. To my fans, hopefully, I can provide you with a victory," said Taylor.
Josh hasn't been around long enough for him to be worried about his legacy at this stage of his career. He should be focusing on just one fight at a time, and not wasting time reflecting as an older person does.
Winning this fight against Ramirez will be difficult for Taylor, as he's going to be facing a fighter that will be using all the things that Regis Prograis exposed in his game.
What Prograis showed is that Taylor's skills on the outside aren't as good when he's in close, and he can be beaten to the punch.
Ramirez will need to resist his urge to brawl on the inside or him to have a chance of winning because he's not going to do well if he gets caught in a war in close.
Josh believes Saunders can beat Canelo
"If there's anyone that can beat Canelo, it's Billy Joe," said Taylor. "I've seen it first hand, his talent that he's got. Watching the things that he's done in the gym.
If he gets his game plan right, he can definitely give Canelo a lot of trouble and a lot to think about with his speed, movement, and angles.
"I think he's very, very intelligent as well, Billy Joe. I do believe if there's anybody that can beat Canelo, it's definitely 100% Billy Joe.
"I think he's got the talent, the speed, and he's got the punching power as well. Everybody says he doesn't punch, but he does.
"He's a massive puncher. Yeah, I believe he can do it 100%, and I'd love to see him do it as well," said Taylor.
As Taylor says, Saunders' boxing skills will give him a shot at beating Canelo because he can outsmart him, and pick him apart from the way that Floyd Mayweather Jr and Erislandy Lara both did.
The real question is, will Saunders be given a decision? Being the better fighter visually might not be enough for Saunders to get the nod by the judges.
Many boxing fans will be surprised to hear Taylor rave about Saunders's punching power, as he's not considered a huge puncher.
It's one thing to pick Saunders to win the fight by a decision, but it doesn't seem realistic to think of him hurting Canelo.