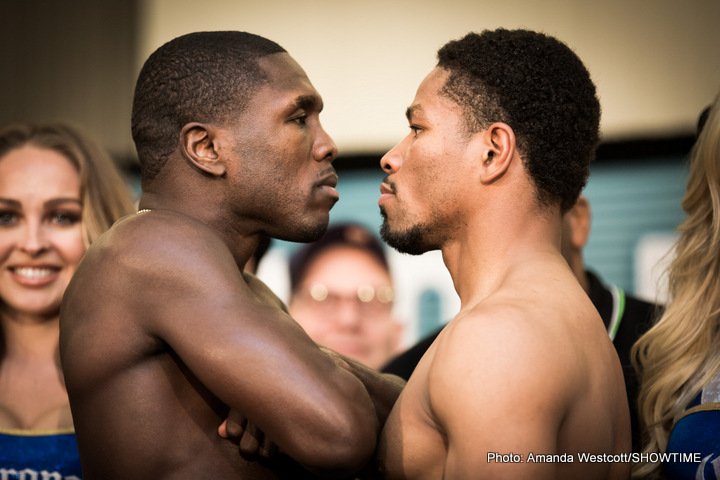 The upcoming fight schedule for this weekend is filled to the rim with action-packed fights and if we're lucky we may even get a fight of the year candidate. Events being staged in Brooklyn, Los Angeles, Liverpool, and Leicester involve different levels of meaning from stern challenges to stay-busy.
Let's start in Brooklyn, New York at the Barclays Center on leading network in the United States Showtime. Shawn Porter and Andre Berto face off in a fun welterweight matchup with a mandatory slot on the line for Keith Thurman's WBC's strap.
Also, on the card Jermell Charlo defends his WBC junior middleweight belt against Charles Hatley. Not sure what to expect from the Don King promoted Hatley who somehow is the mandatory to Charlo's trinket yet hasn't fought since 2015. Adding injury to insult, Charles Hatley sued his promoter not long ago so his mental state is obviously in question. Don't forget before the main broadcast on Showtime Extreme all-action Amanda Serrano attempts to become the first Puerto Rican fighter to win a title in 5 separate weight divisions.
In the last year or so Shawn Porter's main objective was to stay as active as possible in search of a rematch with Keith 'One Time' Thurman. Shawn and his father/trainer Ken Porter have pleaded their case to anyone with a camera or recording device, unfortunately to no avail.
Andre Berto is at a different stage of his career, more of a wait and see mode for what comes down the pipe in way of a good opportunity. This fight makes a lot of sense for both guys and the added title eliminator only increases interest. The style of this main attraction ranges from entertaining to at times sloppy. Both guys will likely begin the early part somewhat conservative but it won't take long for the leather to fly. The pressure Porter applies will eventually crack Berto's leaky defense. Andre Berto's best chance to win is an uppercut something Porter's susceptible to with his hit-the-hole like a running back offensive gameplan.
Both men will likely get hurt if not dropped on the way to a spirited 12-round battle. Porter is the fresher more confident fighter who seems to be still improving, whereas Berto's time has passed him by still able to give the fans a good show.
My official prediction is Shawn Porter by Unanimous Decision.
Oscar Valdez and Miguel Marriaga meet in a main event of a disappointing Top Rank filler in Los Angeles live from the StubHub center. The fact that this hollow card featuring two weak title fights and the pro debut of Shakur Stevenson is on pay-per-view prevents me to go much further into detail from top to bottom.
That's not say Marriaga isn't a solid test for the young up and comer in Oscar Valdez. It's a perfect step up fight that we as boxing fans wish were on normal HBO. Marriaga made a decent stand against then featherweight champion Nicholas Walters. The placement of this fight will all but guarantee an intense squabble. The outcome depends on just how frisky Oscar Valdez wants to get. Does he fight smart and slowly but surely break Miguel down with a potent body attack? Or throw caution to the wind and jump all in creating a great fight. My guess is somewhere in between with Valdez wining in a competitive but clear victory.
My official prediction is Oscar Valdez by late technical stoppage.
Rounding out this preview article is Martin Murray vs. Gabriel Rosado and Tommy Langford vs. Avtandil Khurtsidze. Murray, very similar to Rosado has his back to the wall in a must win scenario. Both pugilist careers are in the same boat, sinking on a downslide. This one will produce plenty of drama from round to round but lack of power by each will prevent a knockout.
Tommy Langford is in tough having to deal with the face-first Avtandil Khurtsizde. Avtandil earned the 'Little Tyson" nickname because of his non-stop offensive aggression, and his short and stocky build. Will Langford be able to hang in their having faded down the stretch in his last outing against a lesser opponent? Langford's jab and right hand will keep 'Little Tyson' at bay but only for a few frames, than expect Khurtsidze to run-amuck on Tommy to that point of exhaustion. Langford will go out swinging getting respect from the home crowed but not victory.
My Official Predictions are Martin Murray by Majority Decision and Avtandil Khurtsidze by late knockout.
Written by Chris Carlson Host of the Rope A Dope Radio Podcast available at blogtalkradio.com/ropeadoperadio Subscribe on iTunes, Player.FM, Tunein, & Stitcher. Visit The Rope A Dope Podcast YouTube Channel & Follow on Twitter @RopeADopeRadio