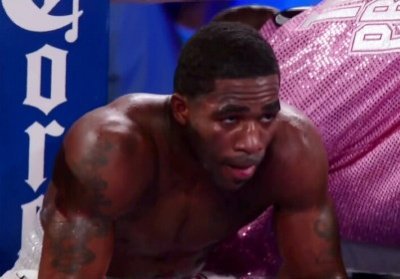 by Dwight Harrison: Before the fight this was looked at as the toughest fight in Broner's career or at least the toughest since the Ponce De Leon match, a fight that many myself excluded say Broner should off lost. Antonio " Tony " DeMarco (28-3-1 21 KO) was widely considered the best lightweight in the world by many and was coming off in off the back off a impressive 1st round knockout off John Molina. Adrien "The Problem "Broner (25-0-0 21KO) on the other hand even though he was also coming off an impressive win over Vicente Escobedo he has also took some stick, because he failed to make weight and lost the title on the scales and failed to make weight at the second time off trying. The fight was going to be Broner's last fight in the super featherweight division we were told this meaning making the weight was probably becoming a struggle he is a 24 year old growing man. I do feel that Broner played up to the villain role by tweeting pictures of twinkles as a 24 year old man also i can at test that you still are growing an he was always gonna out grow that weight class and he knew it.
With a record of (25-0-0 21KO) the skies the limit for Broner he's long been touted as a future ppv star, And its easy to see why he has good defense,technically gifted and has very good power as 21 of his opponents have found out. Brash,Flashy and Confident he adds a colorful character to boxing something that we need more off if i'm honest especially with Floyd Mayweather Jr at the tail end of his career. He has a chance along with Ward, Gary Russell Jr maybe to become the new stars of boxing and when he decides to move up to the 140 pound division there is a chance for him to become a household name with some off the fights that can be made. Its a mouth watering prospects seeing him in the ring with some off the names up there Danny Garcia,Lamont Peterson, Juan Manuel Marquez, Amir Khan and Lucas Matthysse another fight i'd love to see is him and Brandon Rio's.
It was a cautious opening from both men as you would expect. In the second round DeMarco had a bit off success by landing occasionally making us think this could end up being a close fight maybe even tho Broner did the better work going to the body and head mixing it up nicely. The third round was much closer with both men having success a lot off people on the broadcast gave that round to DeMarco i had it to Broner in a close round, The end of the third round was significant i feel as Broner had his best spell while up close on the inside. In the forth Broner went inside more and had the first clear dominant round, While that may have been bad the fifth was even worse as Broner tee'd off on DeMarco who started to look weary. In the sixth Broner's pace slowed down slightly even though Broner was still clearly winning it was not as in the same fashion as the fifth. The seventh followed suit with the sixth, In the eighth Broner stepped on the gas again and upped the pace there was no answer from DeMarco as he hung in there courageously. Broner proceeded to unleashed a flurry off unanswered shot punctuating with a right hook to the body and a sweeping left hook put DeMarco down for the first time in his career and out as his corner jumped up and waved the towel prompting the referee to halt the fight giving Broner an impressive TKO victory.
What this fight showed us was that the dominating performances that Broner's been putting out can be translated to world class opposition. Which is a good sign going forward as and bodes well if he plans to become a household name.We also learned that the sooner he moves up the better as we will be able to see him in more star filled fights.
Well when it comes to Broner he has a lot of options going forward he has wanted to fight Ricky Burns since there days in the Super Featherweight division i'm sure that still holds some interest to him as there both in the Lightweight division currently. He also has a lot off options at Super Lightweight as i previously stated. Another really interesting fight that can be made is at the welterweight division, Adrien "The Problem"Broner and Robert "The Ghost" Guerrero they were exchanging verbal jabs over twitter and there also a video that surfaced on you tube off them having a verbal exchange where Broner tells him to send the contract and he will sign it. Either way its clear there's a big things ahead for Adrien Broner and a lot off boxers are going to have a Problem pun intended.