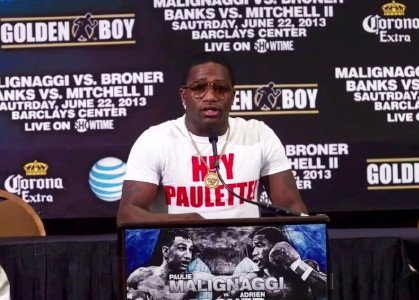 Adrien Broner (26-0, 22 KO's) will get a chance to prove that he's as good as he says he is this Saturday night, June 22nd against WBA welterweight champion Paulie Malignaggi (32-4, 7 KO's) at the Barclays Center in Brooklyn, New York. Broner sees a victory as inevitable and he had better be right because a loss for him in this fight would be a crushing blow to his dreams of being the billion dollar earner before he retires.
Broner wants to transition to being a pay per view star, but he's going to need to blast through Malignaggi and then start facing some of the best fighters at that weight class if he wants to have any chance of realizing his dream.
Malignaggi doesn't have the power to keep Broner off of him if the younger 23-year-old fighter tracks him down and forces him to fight. Malignaggi will have to move a lot and probably clinch if he's smart to try and shut Broner down. If Malignaggi exchanges with him for any length of time then it could be bad for Malignaggi. Broner might not be the next Mayweather, but he can punch and he's quick and deadly with his left hook and straight right hand.
Broner looked kind of one-dimensional in his recent 5th round stoppage win over Gavin Rees last February. Broner was taking a lot of shots from Rees, and just looking to connect with left hooks to catch Rees when he was coming in. That approach won't work against Malignaggi because he'll use his jab to keep Broner from connecting with his left hooks.
The only way Broner lands his left hook is if he throws it from long distance, but if he does that he could get countered. You don't want to throw a left hook from too far away because it leaves you open to getting hit with something. Malignaggi has the better jab of the two and he can dominate with that weapon if he has to. Broner is going to need to show some footwork in this fight because he can't just stand flat-footed and beat a fighter like Malignaggi.