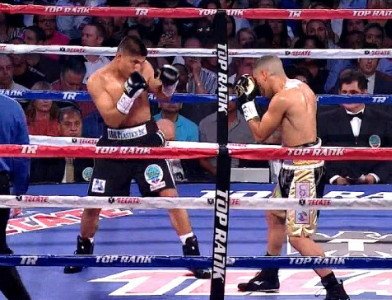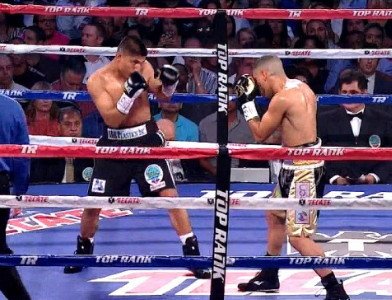 Mikey Garcia's promoter Bob Arum of Top Rank says he's thinking about maybe putting him in with WBO super featherweight champion Roman "Rocky" Martinez (27-1-2, 16 KO's) in what would be Mikey's first fight at 130 lbs. It's a good fight for Arum because it's a fight that he can sell due to Martinez having a large Puerto Rican fan base and Mikey having a large and still growing Mexican fan base. It's a good fight for that reason, but it's not the best fight Arum could make as far as a competitive match-up because Martinez is barely hanging onto his WBO title as it is against the guys he's been facing.
Arum said in an interview with esnewsreporting.com "I think another Puerto Rican, maybe Rocky Martinez."
Hopefully, Arum can start matching Garcia against better opposition after the Martinez fight because that's a mismatch. I thought Martinez looked poor against Juan Carlos Burgos, Diego Magdaleno, and Miguel Beltran Jr. Martinez has only had one dominating performance in the past three years and that was against an over-matched Daniel Attach in 2011. The rest of his fights have been close calls lately.
What's interesting is that Arum isn't looking to match Mikey with Yuriorkis Gamboa or Guillermo Rigondeaux. That gives me the impression that he doesn't want to tempt fate by putting his young star Mikey in with either of them and end up getting a bit by them beating Mikey. It would be like Nonito Donaire losing to Rigondeaux.
Donaire was the name guy and the money guy in the Donaire-Rigondeaux fight, but he ended up getting easily beaten by the less popular Rigondeaux, It looks Arum doesn't want that to happen to Mikey because the most logical fights for Mikey right now are Gamoa and/or Rigondeaux. Putting Mikey in with a champion that is barely holding onto his title as it is against the contenders he's been facing lately isn't going to do much for Mikey because Martinez is almost a paper champion at this point.