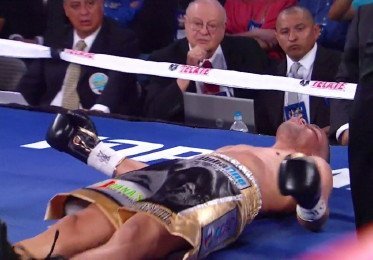 Cristian G. (Coral Gables, FL): Can you give your thoughts on Mikey Garcia's performance and discuss whether or not you think it's time for us to start putting Mikey Garcia in the P4P debate?
Vivek W. (ESB): I think Garcia has consistently given us the same product, time and time again. He's not fundamental in the sense of the Mayweather's, Ward's, etc, of the world; but he has totally given life to the notion that Mexican warriors, under the right tutelage, are far better than the stalk-til-they-can't-walk variety. He has some of the best shot selection I've seen anywhere in the sport. He places his punches properly, and they all come with vicious intentions. I absolutely love what I see, and as a future star of the sport, I love having him on the scene, because you don't have to guess what you're gonna get when the bell rings.
There's some valuable competition out there that I'd love to see him mix it up with at some point soon. The fact that his resume is pretty shallow is the only reason that I would personally stop short of placing him on any P4P list. Reality based or mythical. We've seen plenty of fighters show poise and skill, only to be conquered in a rather easy fashion once they face someone with a heart as big as there's. Personally, I just don't see him being the type of fighter to wilt under pressure. He's too poised for that, in my observation. But until he actually does it, I don't we can advance respect in that regard. One thing I can definitively say is that win, lose, or draw, he won't be the type of fighter we see wimp out against a top contender.
I really see him being cut from that vintage Mexican cloth. That one that breeds champions. Short list of opponents I'd love to see him face would be Mares, Donaire, or even another fighter who seems to have solid talent yet is even more untested. That person being Gary Russell jr. We'll see what the future holds. Politics may prevent many of those fights from happening. But one thing for sure: it's time to see him face a level of competition that will remove all doubt. Hopefully it starts soon.
Martin W. (Charleston, SC): You seem to give Malignaggi a bigger chance than many fans and media. How do you see the fight playing out?
Vivek W. (ESB): I have great respect for Paulie Malignaggi. Aside from being a standup guy, he has very underrated skills. Some refuse to give him respect because of his limited power. That didn't never stopped Timothy Bradley. It never stopped several guys around the sport. He's a talented fighter, and he's a cagey veteran. Truth is, he is the most talented fighter Broner will ever have faced. And if Broner is to escape this fight on the heels of semi-easy night, I'd be more prone to give Broner credit, rather than call Malignaggi washed up, because I can tell you he isn't. Malignaggi stood in the fire with Cotto and many others. He has faced the best and never ran away.
He will bring veteran skills, a huge heart, and an undying will to win. If Broner thinks this will be an easy night, he's in for a long one. Trouble is, I don't think he does. Broner talks his talk, but he's fully aware of what he has on his hands. I think we will see the best Broner we've seen to this point. And I expect him to make it an interesting night. I really think both men will show class and skill. At the end of the night, youth, speed, and power will probably prevail. But both men will know they were in with something special by the end of the night.
We know that styles make fights. Broner's last fight proved that. Rees was not in any way, shape, or form, a threat to Broner, fundamentally. But it was the first time he faced a small, compact, speedy, and powerful template. It looked very suspect for a few rounds until he figured it all out. This fight will be much of the same. I expect it to take him a good 4-5 rounds before he finally realizes what he has to do to pin down a magician like Paulie. If he loses some of the late rounds, he could be in trouble, because Malignaggi will put a few of the early rounds in the bank. I look forward to the fight. It should be a good one. All things remaining equal, I like Broner on points. Margin to be determined by how long it takes him to figure out the "Magic" man.
Kelso H. (San Juan, PR): Can you clarify your FaceBook comments about Puerto Rico "no longer [having] a top contender in the sport with JuanMa, Cotto, and others struggling?
Vivek W. (ESB): Basically my sentiments were built around the fact that this is the first time that I can personally recall where Puerto Rico has absolutely zero true prospects to represent an island that I think, per capita, has given us more iconic figures than arguably any other country in the game today. When we think of the rich history of Puerto Rico, as it relates to the sport, there's always been someone at the helm who we knew would be in the mix for a blockbuster affair; either with the best of Mexico, the best of the Filipino nation, and/or beyond. This is literally the first generation I can think of where there's no formidable contender for the future on deck.
Past decades, you had Carlos Ortiz, Wilfredo Gomez, Wilfred Benitez, Macho Camacho (RIP), Trinidad, and more recently, Miguel Cotto. Currently, there's no one on the radar. The closest possibility is Danny Garcia, but many of you may remember my radio show broadcast months ago where a native Puerto Rican blasted the notion, stating that "Garcia isn't a true Puerto Rican; but more of an American who has Puerto Rican blood". I don't totally agree with the angle, but another Puerto Rican fight fan put it all in perspective, stating that Puerto Rican natives identify with those homegrown talents who they have watched through the amateur ranks – and that the only reason these fighters make such a splash is because they are able to gain steam internationally from support in those early days.
Makes total sense in some ways, yet somewhat baffles me in others. If we remove Garcia from the mix, I'm afraid the best Puerto Rico has on the radar currently is an aging Miguel Cotto who has unfortunately lost every elite level fight recently. He remains the 3rd biggest draw in the sport, but his shelf life at this stage is very dated. 3-4 fights tops, before we see him walk away for good. So it's a troubling time for Puerto Rican boxing. Another contributing factor is the fact that there's no quality trainers there at this stage. A once solid talent stable has suddenly been replaced with rock-em-sock-em robots. Trinidad's emergence on the island was proof. He had a good chin, but if he didn't, his robotic style, paired with a huge heart would have resulted in an outcome very similar to JuanMa. A good chin is the only thing that separates the two men. We'll have to see what happens next, but it's a sad day for Puerto Rican boxing, right about now. Stay tuned.
(Vivek "Vito" Wallace can be heard tonight at 9ET/6PT on "Left-Hook Lounge Radio". Also, he can be reached at 954.300.5692, Twitter (@vivekwallace747), Instagram (ViveksView), & FaceBook).