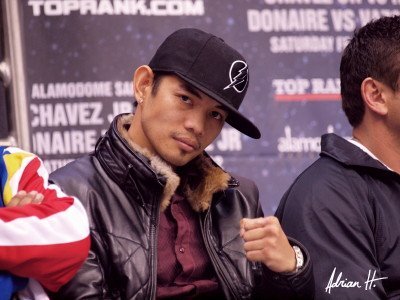 (Photo credit: Adrian Hernandez) By Joseph Herron: On October 13th, at the Home Depot Center in Carson, California, pound for pound fighter and IBF/WBO Super Bantamweight Champion Nonito Donaire (29-1, 18 KOs) will attempt to acquire the WBC Diamond distinction when he faces WBC Champion Emeritus Toshiaki Nishioka (39-4-3, 24 KOs).
Although die-hard boxing fans and fight scribes in "the know" recognize the dangers in facing a world class fighter and versatile boxer/puncher like the Tokyo, Japan resident, most casual fans who aren't familiar with Nishioka won't appreciate how daunting of a task earning a decisive victory will be.
Although the 18 year ring veteran has been inactive for almost a full calendar year, Toshiaki Nishioka is one of the more intelligent fighters in boxing, displaying the ability to adapt to his opponent's strengths and exploit their weaknesses.
The 36 year old fighter can take the lead effectively and can set traps for his opponents proficiently as well. The crafty southpaw can maneuver to either side of the ring depending on his opponent's power hand and can keep most 122 pound fighters at a safe distance with his long, rangy jab and underrated footwork.
This could easily prove to be Nonito's most difficult assignment to date. The October 13th pairing creates a serious quandary for "The Filipino Flash".
Should Nonito's athletic gifts get the better of the former WBC Super Bantamweight Champion, most fight fans will scoff at the victory and accuse Donaire of avoiding the tougher challenges in the 122 pound division.
But if the four division world champion struggles against the crafty Japanese fighter, which is highly probable, most will question the validity of the Filipino icon's pound for pound ranking and his ability to compete against the elite of the Super Bantamweight division.
Nonito Donaire deserves immense respect from the entire boxing universe for merely taking on the crafty southpaw veteran. In an age in which many elite level athletes pick and choose their opponents carefully, the 29 year old fighter has thrown caution to the wind throughout his ascension to boxing stardom.
In the current era of boxing, numerous titles and belts hover around every weight division; ultimately watering down the distinction of being labeled a world champion. Some fighters, who claim to be among the elite, have been able to avoid the stiffest competition available in their respective weight class by merely representing one sanctioning organization and defending the title against its mandatory challenger.
While competing in one of the deepest divisions in boxing, Nonito Donaire is currently choosing the path of a real world champion. Every Super Bantamweight fight he's participated in to date has been against a legitimate title holder.
Saturday, October 13th, will be no exception. Toshiaki Nishioka didn't lose his title after being defeated by a mandatory challenger or another title holder. In fact, the Japanese technician hasn't lost a single bout since March of 2004.
Despite popular sentiment, Nonito Donaire has chosen the most qualified fighter in the talent enriched 122 pound weight class with which to tangle.
Guillermo Rigondeaux's reputation as an elite level talent almost completely stems from his body of work as an amateur fighter. Abner Mares' pound for pound ranking was established in the very competitive 118 pound weight class. The young two division champion has only competed in one Super Bantamweight bout to date.
Since moving up to the packed 122 pound weight division in 2004, Toshiaki Nishioka has been perfect. The crafty southpaw has gone 16-0 with 9 wins coming by way of knock-out since fighting as a Super Bantamweight.
On Saturday, October 13th, Nonito Donaire will easily be in one of the toughest fights of his acclaimed career. Team Donaire and Top Rank can only hope that the always critical boxing court of public opinion recognizes and appreciates his rocky path to glory.