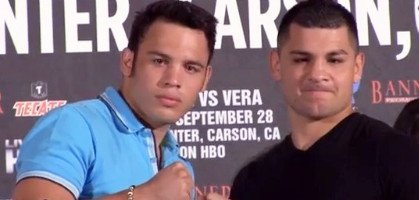 Many hearts across Mexico were left broken on September 14. When Saul "Canelo" Alvarez suffered a lopsided unanimous decision loss to Floyd Mayweather, Jr., the same had happened to Julio Cesar Chavez, Jr. almost one year to the day. Chavez, Jr. lost a one-sided yet almost unforgettable twelve round decision to middleweight king Sergio Martinez on September 15, 2012. The two respective losses for what many saw as Mexico's future torchbearers behind Juan Manuel Marquez left many questions answered, yet perhaps many more to be asked of each.
In regard to Chavez, Jr., (46(32)-1-1) the son of Mexico's greatest fighter ever, his day back in the sun (literally) will come this Saturday evening at the Home Depot Center in Carson, California. Standing in the way of the Culiacan, MX native is the ring hardened Brian "The Warrior" Vera of Austin, TX. Vera (23(14)-6(2) has had an interesting career in the sport. He's experienced a stint on the reality series "The Contender" and has victories over such names as Andy Lee, Sergio Mora and Serhiy Dzinziruk.
Julio, Jr. tested positive for marijuana shortly after his bout with Martinez. The former WBC titleholder was fined $900,000 and had a nine month retroactive ban levied upon him. He'll be making a jump up in weight (catch weight) to 168 as opposed to his customary middleweight mark of 160.
I caught up with Brian this afternoon as he took part in his final workout before departing to Los Angeles at the Full Force Gym in Cedar Park, Texas. He briefly spoke about his upcoming challenge and why he thinks he's ready to hand Chavez, Jr. his second defeat.
General Feelings Leading Up to Saturday: "I feel good and I had a twelve week camp. It was actually closer to seventeen weeks, but twelve week's worth of sparring. I probably sparred over one hundred rounds and I feel as strong as ever. The weight for the fight is 168 and I won't have to drain myself like he will."
Ideas On The Fight Itself: "I plan on putting a lot of pressure on him because he's never fought anyone like me as far as size and physical strength are concerned."
Anything of Value from Chavez, Jr.'s Last Bout: "Maybe just a little bit, but then again, he failed his drug test. We knew that he wasn't prepared. I can't look too much into that because he's probably going to be much better prepared this time. I don't expect him to come into the ring and do the same things, but if he does, then he can look for a lot of pressure to come back onto him."
Weight/Power Issues: "I feel good. In fact, I think I'll feel even stronger because the fight is at 168. I won't have to kill myself to make that. I always lose a little bit but at this weight, I'll have the most power I've ever had."
Closing Comments: "Thanks for all the support I have received. I am one hundred percent ready. Tune in to HBO because it will be a great night."