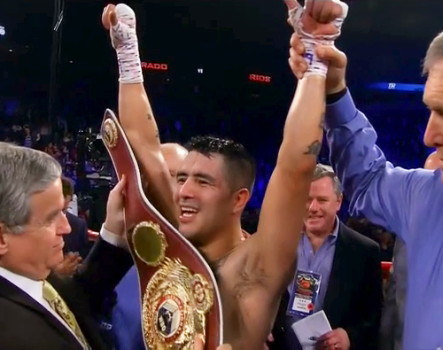 Brandon Rios (33-2-1, 24 ko)says he is relishing his November 7th date with WBO welterweight titlist Tim Bradley (32-1-1,12 ko), given that a big win against the new champion will springboard him on to bigger and better things.
The two Top Rank fighters will meet at the Thomas and Mack Centre in Las Vegas, with Bradley being cornered by new trainer Teddy Atlas, following his parting from long-time trainer Joel Diaz, whom he split with following his win over Jessie Vargas in June.
Despite the new hook-up, Rios claims that Bradley will end up being drawn into fighting his kind of fight, even though Atlas is insistent that he is capable of teaching the old dog, Tim, a few new tricks in the defensive department and won't be looking to brawl and trade up close with "Bam Bam" as he has so often with others in the past.
"I am excited because I know Bradley is going to come out and fight. Once the fight happens he can train to box but he is a warrior and is going to come out and fight," Rios said to Fightnews.com. "I felt like this in the third Alvarado fight with my back against the wall because it's another opportunity for bigger things."
Rios hasn't boxed since that Alvarado fight back in January, when he absolutely obliterated his out of sorts foe after 3 rounds to conclude their series, emerging the eventual winner 2 fights to 1. He had been looking at a potential fight in England against IBF welterweight champion Kell Brook, although that fight fell through when financial and contractual terms ultimately could not be agreed on.
Aside from the obvious – Pacquiao – Rios and Bradley share a common opponent in Argentina's Diego Chaves, who got himself thrown out in a foul fuelled fight with Rios before going on to a controversial draw with "Desert Storm" in his very next fight. Incidentally he fights Brook on October 24th in England and the British fighter is likely to emerge as a target for the winner of next months Bradley/Rios fight for a big unification fight in 2016, although should that winner be Rios, he claims any fight with Brook will now be on "his terms."
Twitter @Undilutedpoison