Last year, there was a passing of the torch in women's boxing. This happened in the welterweight division when Jessica "CasKILLA" McCaskill (9-2, 3 KO's) of Chicago, Illinois, defeated Cecilia "First Lady" Braekhus (36-1, 9 KO's) of Norway.
McCaskill has her own "Rocky" story. She was once homeless in her childhood and she was able to overcome that. She was a two-time Golden Gloves winner and got a late start in boxing. She became a pro at the age of 30 in 2015.
Normally, it is very rare to be successful in boxing with such a late start. She suffered her first loss in her second pro fight but kept fighting and eventually became a world-ranked fighter.
She got her first title shot in 2017 in her seventh professional bout. She challenged the undefeated Katie Taylor over in London.
McCaskill came up short in the fight and lost a unanimous decision, but she gave the undefeated Taylor all she could handle. After her loss to Katie Taylor, she was given another opportunity at a title shot in her hometown of Chicago in 2018.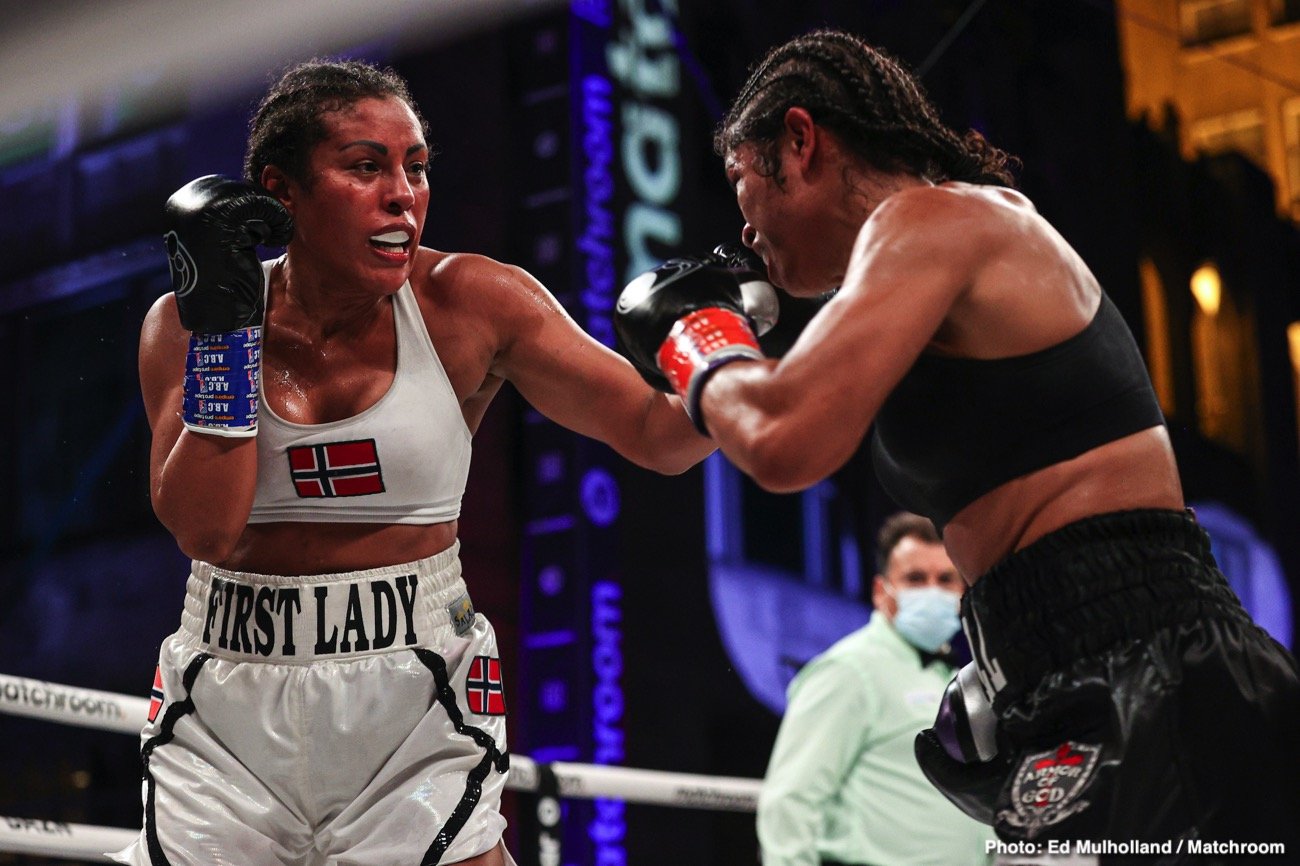 McCaskill moved up to the super lightweight division and challenged Argentina's Erica Anabella Farias for the WBC World Female Super Lightweight Title.
McCaskill made the most of this opportunity and won a ten-round unanimous decision to win the world title. McCaskill kept the momentum going in 2019 and added the WBA title in a unification bout by defeating Anahi Sanchez. Then she defeated Erica Anabella Farias in a rematch to end the year.
Since her fight with Katie Taylor, McCaskill has fought tough opponents and has not taken a step backward. She decided to step it up a notch and moved up to the welterweight division.
She didn't face just any fighter, she fought the Undisputed Welterweight Champion Cecilia Braekhus. Braekhus was a world champion for an astonishing eleven years and the undisputed welterweight champion for six years.
Despite being a 5-to-1 underdog, McCaskill solved the puzzle and defeated Braekhus. McCaskill along with her trainer Rick Ramos had a good game plan and they executed it. Throughout ten rounds, it was a tough competitive fight from start to finish.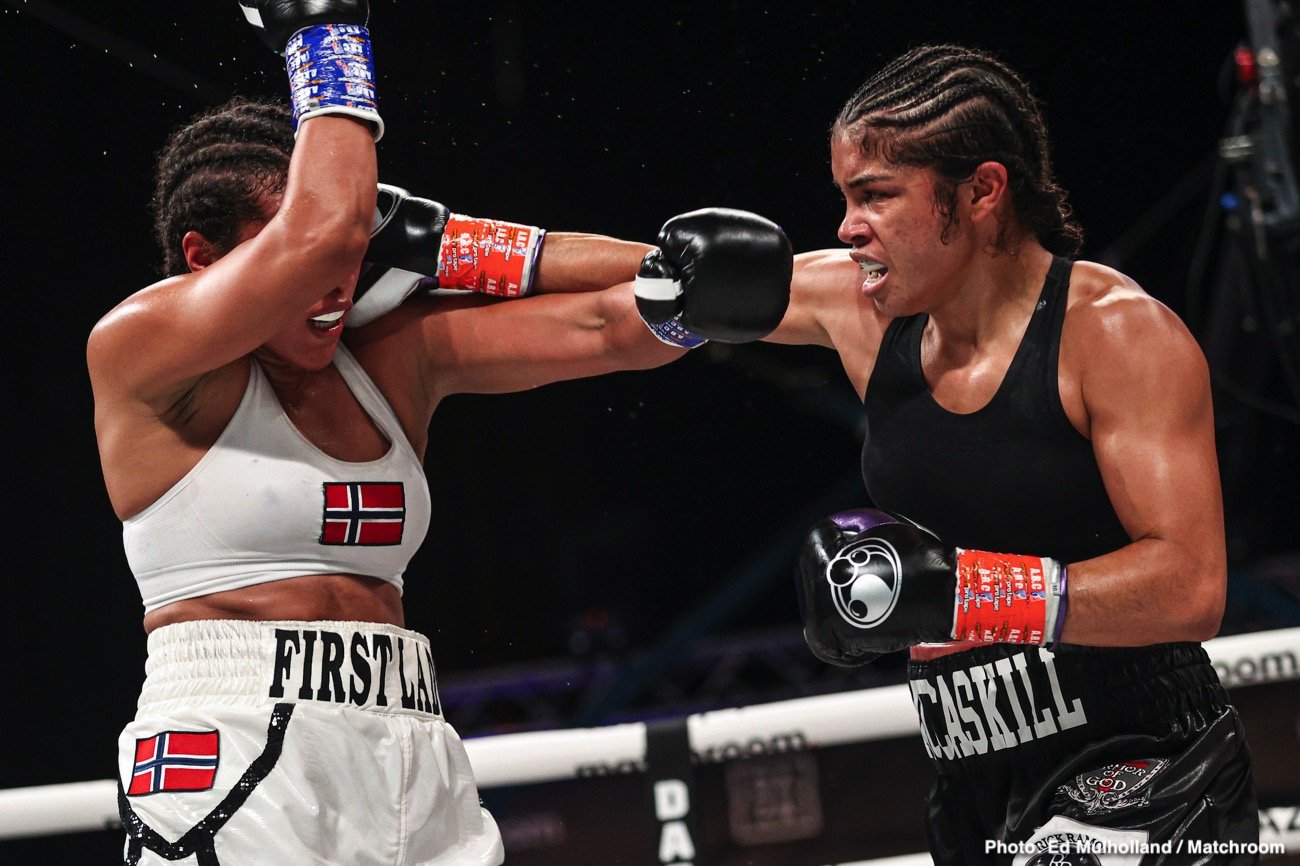 In the end, the scores were 95-95, 97-93, and 97-94 in favor of McCaskill by majority decision. There were some complaints of the scoring but it was not a robbery. No matter how you felt about the scoring, McCaskill fought her fight and Braekhus did not.
McCaskill was the aggressor throughout the fight and she was the busier fighter. Even when the two fighters clinched, McCaskill would punch in the inside and work her way out. Braekhus was forced to slug it out with McCaskill. The judges ended up favoring the busy work rate of McCaskill.
Not only did McCaskill become the Undisputed Welterweight/Lineal Champion but she is now considered one of the best female fighters pound for pound. Simply put, the win was one of the best accomplishments in women's boxing.
Now, McCaskill will defend her titles in a rematch against Braekhus this Saturday as the co-feature to Estrada/Gonzalez II. The first fight was entertaining and we expect the rematch to be as well.
McCaskill is the underdog once again as Braekhus is the favorite to regain her titles. McCaskill will be looking to silence the critics as many feel that McCaskill's win over Braekhus was a fluke.
I think if McCaskill keeps the same game plan as their first fight, it will be the same result. McCaskill has been in the underdog position before and has been counted many times. Looking back at her track record, McCaskill has overcome obstacles and fulfilled her dreams. At this point, I would not count her out anymore.