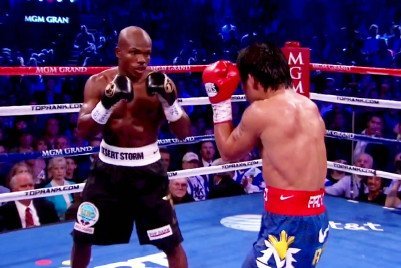 By Rob Smith: Tim Bradley Sr., the father of WBO welterweight champion Tim Bradley (29-0, 12 KO's), feels that Manny Pacquiao (54-4-2, 38 KO's) got a lucky break last June when Bradley injured his leg in their fight in Las Vegas, Nevada. Although Bradley still ended up winning the fight anyway by a 12 round split decision, Bradley Sr. feels that his son would have knocked Pacquiao out had he been fighting on two good legs in that fight.
Bradley Sr. said to Examiner.com writer Chris Robinson "I feel that Pacquiao would have got knocked the h*ll out if my son would have been able to shift the power on either leg but he could not do that."
Bradley showed little in the way of power in that fight, and it pretty clear to most boxing fans that Pacquiao was the much harder hitter of the two. However, Bradley has shown some decent power in past fights against the likes of Lamont Peterson and Joel Casmayor. But Bradley has never been a huge puncher and it's doubtful that even with two good legs working for him that he'd have been able to knock out the 33-year-old Pacquiao in that fight.
What Bradley did have working for him was mobility, speed and a constant workrate that gave Pacquiao major problems. Pacquiao has been fed mostly stationary fighters in the past four years by his promoter Bob Arum, so that when he finally had to face someone that showed him some mobility, he was lost.
Bradley was able to outmaneuver Pacquiao even with both legs injured. That could be age rearing it's ugly head with the Filipino fighter, because he used to be a lot quicker on his feet in cutting off the ring on his opponents. But it looks like the affects all that weight gain from moving up in weight division after division over the years is starting to show with Pacquiao slowing down on his feet.
Bradley is hoping to get a rematch against Pacquiao in December so that he can show that his victory over him was no fluke. Pacquiao is still trying to figure out whether he wants to fight Bradley again or Juan Manuel Marquez. Neither fight is going to be easy at this point for Pacquiao, and he's got a big decision to make. Both choices could result in Pacquiao getting beaten, and perhaps the choice is for him to fight neither guy. Pacquiao should be using this fight to get a tune-up against a fighter with skills that are similar to Floyd Mayweather Jr., who Pacquiao wants to fight in early 2013.