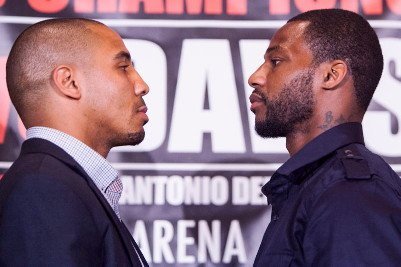 By Marcus Richardson: WBA/WBC super middleweight champion Andre Ward (25-0, 13 KO's) will be defending his titles against Chad Dawson (31-1, 17 KO's) on Saturday night on HBO at the Oracle Arena, in Oakland, California. The 30-year-old Dawson will be coming down from light heavyweight to challenge the 28-year-old Ward in a huge fight for both of them. The winner of this fight can move onto bigger and better things with possible payday fights against the likes of Mikkel Kessler, Carl Froch, Lucian Bute and Arthur Abraham.
Ward said to USAtoday.com "Chad is not fighting a guy in his 40s. I'm 28, I'm a young man. That's something he hasn't had to deal with for a long time, as well as my skill set."
Dawson has fought a lot of aging fighters in the past four years with two fights against 43-year-old Glen Johnson, two fights against the 42-year-old Antonio Tarver and two fights against 47-year-old Bernard Hopkins. The unfortunate about boxing is that it takes so long for a fighter to become a star that it kind of limits the options of fighters on their way up if they want to get big fights on television.
Casual boxing fans tend to know the older established fighter and prefer to see guys like Dawson fight them rather than seeing him fight younger guys that they may not have heard of. Dawson has spent the last four years of his career facing mostly older guys instead of younger fighters that may have helped him raise his game a notch.
Ward is definitely a younger fighter and this is a good fight for Dawson to take. Dawson just finished defeating Hopkins in a rematch April and now Dawson can see how he does against what many people see as the best fighter in the super middleweight division in Ward. This is a much different fight from the Hopkins fight, although both Ward and Hopkins are known for their mauling styles on the inside. Hopkins didn't really try much of that against Dawson for some reason, and instead took it easy by staying outside and trying to land pot shots all night.
Ward is pretty predictable in how he fights now. He's become strictly an inside fighter for the most part, and that's probably how he's going to try and fight Dawson. Ward may have to fall back onto a plan B if he's not able to force Dawson up against the ropes to work inside like he's done against many of his other opponents. If that happens it's going to be a tough fight for Ward, because the 6'2″ southpaw Dawson is hard to beat on the outside due to his huge reach advantage and his slick defensive skills. This isn't Carl Froch that Ward is fighting. Dawson is definitely a level above Froch, and Ward barely beat Froch.