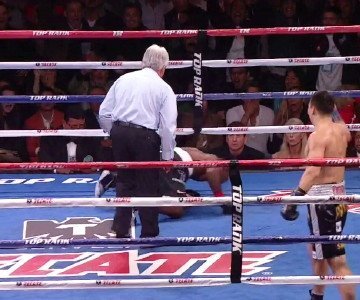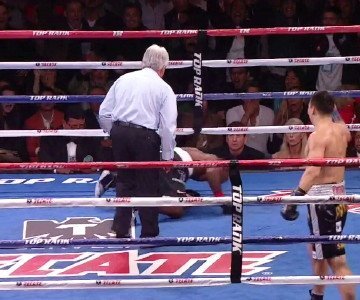 WBO welterweight champion Tim Bradley (31-0, 12 KO's) really lucked out last year when he was given a controversial 12 round split decision over Manny Pacquiao (55-5-2, 38 KO's) in Las Vegas, Nevada. Few people believe that Bradley won that fight, and he's seen by many fans as a paper champion because of the win that was given to him.
As of now, it's looking like Bradley will likely be Pacquiao's next opponent in April in a rematch. Former lightweight champion Nate Campbell, who previously fought Bradley back in 2009, thinks he could end up getting permanently ruined by Pacquiao if he takes the rematch. Campbell saw how Bradley was slurring his words after his fight against Ruslan Provodnikov last March, and he sees him possibly having a worst outcome against Pacquiao due to his speed, power and desire for revenge.
Campbell doubts that Bradley will be able to keep Pacquiao off of him this time no matter what he tries to do. Bradley used movement to avoid Pacquiao for long stretches of every round. He would then come in and land quick combinations towards the end of each round to steal the rounds, but for the most part Pacquiao dominated every round of the fight.
"Bradley can't keep Pacquiao off of him," Campbell said to Hustleboss. "If Pacquiao can get in, not only will he walk through Bradley, but he's liable to ruin Bradley. In that fight with that Russian guy [Provodnikov], I could hear the slur in his voice. He recovered from it, but he can't have too many more of those fights."
Bradley used movement to defeat Juan Manuel Marquez last October, and you can expect he'll try the same thing with Pacquiao. He seems to have learned his lesson from his fight against Provodnikov that he doesn't have the chin, defense or power to stand in one place and fight the better fighters. Bradley is forced to use movement because he won't last more than a handful of rounds against Pacquiao if he chooses to fight it out with him in the trenches.
Campbell might be right about Pacquiao ruining Bradley in this fight if he is able to nail him with big power shots. It's very difficult to imagine Bradley being able to eat the kinds of punches that Pacquiao's last opponent Brandon Rios did without coming out of the fight in bad shape.