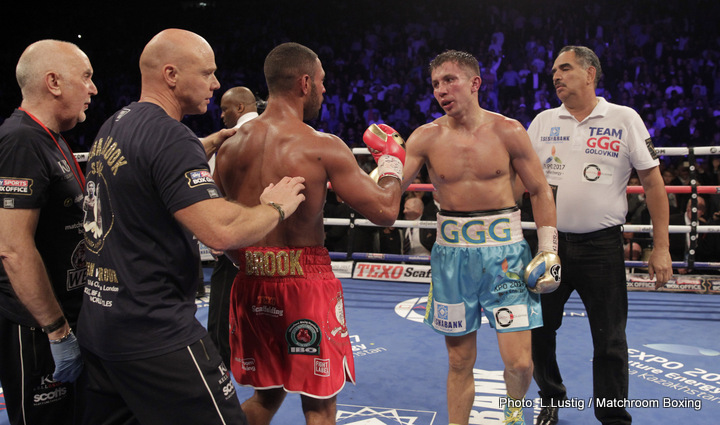 Fool me once shame on you, fool me twice shame on me, is a saying that British boxing fans should consider following Kell Brook's fifth round TKO defeat to Gennady GGG Golovkin. The all too predictable outcome at the O2 arena in London on Saturday night comes just a few months after Brook's fellow countryman Amir Khan met a similar fate at the hands of Mexican, Saul Alvarez. Fans must be scratching their heads and wondering how they fell for the same old ruse again? Brook and Khan both moved up two weight classes from welterweight to challenge for the middleweight crown and both got flattened by a proverbial steamroller. Brook boxed well for the few rounds that the contest lasted and showed a 'champion's heart'. But when we've exhausted all the usual platitudes and finished lauding Kell's 'unquestionable courage', boxing fans need to ask why these mismatches continue to be made? Money, name recognition, a lack of willing challengers, a built in excuse for defeat, are all the usual suspects. A big payday for the fighters, promoters and media, but sadly an all too predictable show for the fans.
The difference in fire power was obvious from the opening bell. Brook showed fast hands, good movement and an array of crisp shots, but you can't bring a knife to a gun fight. In the post fight interview Brook said, 'He obviously can punch, but I expected him to be a bit bigger puncher. I think in the second round he broke my eye socket.' The flaw in Brook's logic is obvious but understandable given the fact that he had just gone five grueling rounds with the human wrecking ball from Kazakhstan. Kell suffered a broken orbital bone in the early rounds that clearly hindered his vision and trainer Dominic Ingle's decision to throw in the towel should be commended for saving his man from any more unnecessary punishment.
While Brook does possess good power at welterweight, boxing clearly has different weight classes for a reason. In recent years only greats like Manny Pacquiao have successfully managed to move up in size and retain their knockout power. Roy Jones Jr. relied on his speed and skill when he defeated Heavyweight champion John Ruiz, but Jones was the dominant fighter in the light heavyweight division at the time and Ruiz was certainly no GGG. In comparison, Kell Brook only just scraped past Shawn Porter to win the IBF welterweight title and still has plenty of worthy opponents to face in that division. Choosing to take on a bigger, stronger man who also happens to be the sport's pound for pound number one was a near impossible task from the outset.
After the fight Golovkin called out another Brit, WBO middleweight champion Billy Joe Saunders. I have no doubt that the outcome of that contest would be a similar one sided bludgeoning, but at least there can be no excuses about size. An all British grudge match between Kell Brook and Amir Khan could also now be on the cards and would be a huge payday for both men if their paths finally cross. I'm all for fighters getting paid handsomely as there can be no doubt that they deserve it. But it's time to show some respect for boxing's weight classes again as well as for the fans, because they wont be fooled again.
By Philip Green.