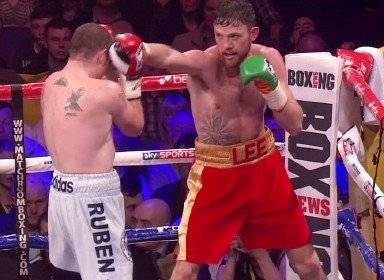 On September 19th at Thomond Park, Limerick, a massive fight for British and Irish boxing will go down, when WBO middleweight champion 'Irish' Andy Lee defends his title against mandatory challenger, Hatfield's Billy Joe Saunders.
The bout will be historic in that it will be the first time two men of traveller origins have contested a version of a world title, and talking to iFLtv this week, Saunders gave an insight into the significance of the fight within their communities;
"Me and Andy Lee, there's added spice to this fight. For one, It's a historic fight, we're making history, two travellers fighting for the world title – but also none of us wanna lose. Where we come from, you don't wanna lose. One of us is gonna have to do real damage before we let ourselves lose or one of us get's knocked out cold."
"It's very important to me not to lose. Boxing's boxing but I'm gonna give it my heart and everything I got to beat Andy Lee – and if I bring that, it's gonna be enough."
Former Olympian Saunders will no doubt be stepping up in class against Lee but rejects the notion that Lee's prior opposition will give him the edge in the fight, feeling his own significant amatuer experience has stood him in good stead, translating well to the professional ranks thus far.
"He's got the experience Andy – but Chavez went in there, he got stopped. Peter Quillin was weight drained. Was he (Lee) a big amateur star? Not saying I was a big amateur star but.."
"Korobov? Yeah, good amateur fighter but ain't really cut it as a pro has he, from day one? Not taking anything away from Andy Lee but if he'd got the Peter Quillin win? – and Quillin was weight drained a bit as well. He (PQ) bust himself to get down to that weight."
The one thing Saunders is more than aware of is Lee's one punch knockout power, which we saw evidenced against Matty Korobov and John Jackson, giving Lee the win when he was otherwise behind on the cards.
He also floored Peter Quillin after touching down twice himself back in April, so Saunders knows he has to stay focused if he is not to meet the same fate.
"If I'm winning that fight, I'm not switching off for a second. How Andy Lee beats these people is when they're in the trenches with him – not bullying him but doing what they want with him – they start to try things and get careless."
"Andy Lee can punch. If he catches you with them little gloves? Look at Peter Quillin, it cost him the fight, he got careless, got put over, got caught and cost him a draw really. It was the same with Jackson and Korobov."
"If you get careless with Andy Lee you will be made to pay for it."
Twitter @Undilutedpoison