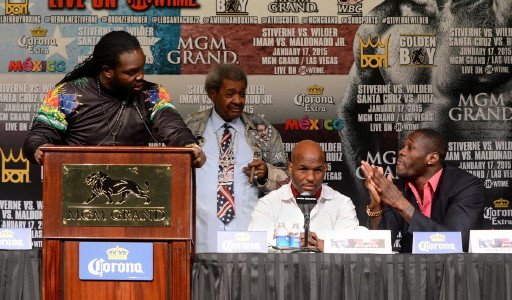 (Photo credit: Naoki Fakuda) If everything goes right for WBC heavyweight champion Bermane Stiverne (24-1-1, 21 KOs) he'll be putting an end to the Deontay Wilder (32-0, 32 KOs) hype and sending him off into obscurity after giving him an embarrassing thrashing at the MGM Grand in Las Vegas, Nevada.
Stiverne figures that if he knocks the 6'7" Deontay Wilder in shocking fashion, Deontay will be forgotten by boxing fans after this fight and written off as a serious heavyweight contender. As it is, Deontay has been compared frequently with 6'7" American heavyweight Michael Grant, who started off his career with a near identical record of 31-0.
Things were going well for Grant until he met up with IBF/WBC heavyweight champion Lennox Lewis in April of 2000, and was knocked out in just 2 rounds by Lewis. Grant's career was never the same after the stoppage loss, as he took a year and half layoff from the ring before returning to action in 2001 in getting knocked out in the 1st round by Jameel McCline.
Whether Deontay Wilder will be reduced to another Grant remains to be seen. We'll find out on Saturday night when he gets in the ring with Stiverne and starts trading punches with the short, powerful Haitian fighter at the MGM Grand in Las Vegas on Showtime Championship Boxing.
"After this fight you will never ever hear about Deontay Wilder," Stiverne said at the final press conference last Thursday. "I'm no cab driver, I'm no one-hit wonder. This is the real deal. The belt here isn't going anywhere. This green belt is staying right here in the green hotel," Stiverne said.
Here's the thing; if Deontay can keep his distance and use his reach to avoid Stiverne's big power shots, this could turn out to be a very easy fight for Deontay. He's certainly got the size to dominate Stiverne much in the same way that Wladimir Klitschko has dominated his opposition during his championship reign. The question is does Deontay have the ring intelligence, mental discipline and training in how to use his size to his advantage. In looking at Wilder's previous fights one can't help noting that he rarely if ever uses his jab.
When Wilder does choose to throw jabs, they're often weak and come up short of the target. That's obviously a training issue, because a good trainer would have taught Deontay how to use his jab by this point in his career. He's been with trainer Mark Breland pretty much from the start of his career, and yet Deontay is still not using his jab or his size to dominate guys the way he should.
Perhaps a loss for Wilder in this fight could be a wakeup call that he needs a trainer like Virgil Hunter who can teach him how to use his size in his fights instead of him relying on his right hand so much.