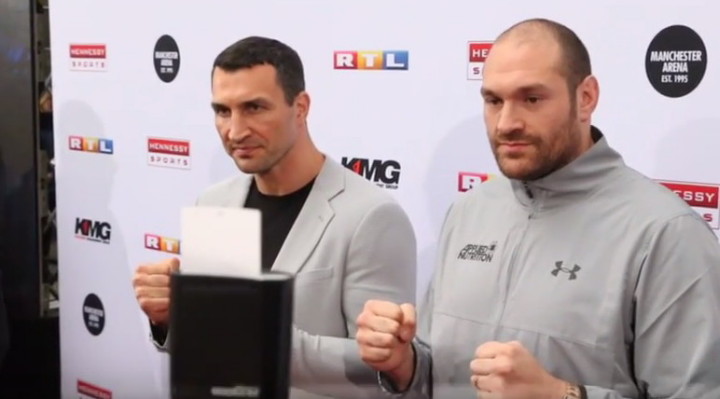 Fans the world over were shocked yesterday at the sight of heavyweight champion Tyson Fury's physical appearance. As surely all fans know, the don't give a damn Fury ripped off his t-shirt at yesterday's "Repeat or Revenge" press conference in Manchester, to show off his non-athletic body (his own choice of words included "fat man and fat pig") to the ex-champion he must face again on July 9th in Wladimir Klitschko.
Already, the odds of a second Fury win, in the opinion of many people, have shifted. With ten weeks to go until the return fight, fans are asking, can Fury possibly get himself into tip-top fighting shape in time? Well, Peter Fury, Tyson's uncle and head trainer, who spoke with Talk Sports, insists that, yes, he can; and he will. In fact, Peter says that "looks can be deceiving," and that "he hasn't got that much weight to lose."
"I think he's just under the 20 stone bracket at the moment and we've got a ten week camp, so for a heavyweight that's not a lot of weight [to lose]," Peter said. "That's like a lightweight losing four or five pounds."
Maybe, but what else, aside from gaining weight, has Tyson been doing that may or may not affect his performance in July? Aside from eating a lot, Fury has been drinking; will his alcohol consumption affect his chances of winning, or of performing to his best ability, in the rematch?
Certainly, if he keeps on ballooning in weight between fights, this will catch up with Fury at some point. It might not be this fight, but it will happen – if Fury keeps on fighting, that is. Speaking today with Kugan Cassius of IFilmTV over in Germany just after today's second press conference ended, Fury said that he genuinely does not care if he loses the rematch to Wladimir, and that he could well retire if he does lose on July 9th.
Fury sure looked like a man who does not care at yesterday's presser. Let's hope, for all fans who want to see a good fight in July, that Peter Fury – one of the best trainers in the world today – can work his magic a second time and turn Fury into the lean, mean and motivated fighter he was back in November of last year.