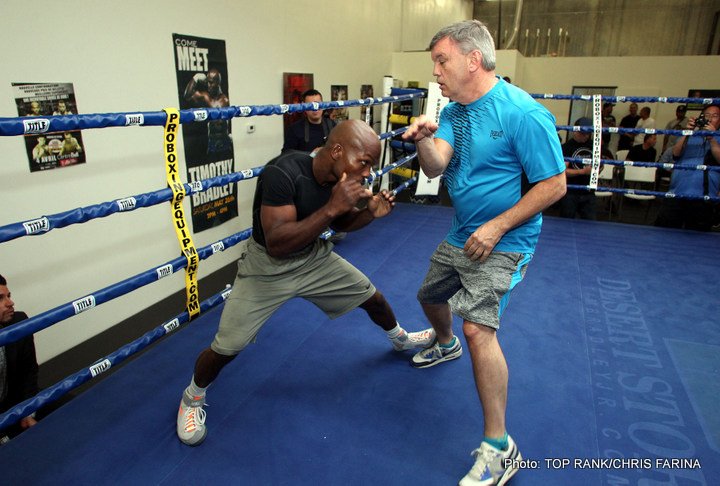 Tim Bradley's new trainer, Teddy Atlas, is potentially getting far too carried away with his new charge's dominant performance over Brandon Rios last night, suggesting he would like the newly retired Floyd Mayweather to fight him next.
Atlas is being credited with reinvigorating Bradley in the wake of his split from long time trainer, Joel Diaz, and although his performance against Rios was stylish and dominant, it was clearly more down to Rios not showing up than it was anything Atlas did in the build-up, especially given their short time together and the fact Bradley entered the fight a considerable favourite in any case.
Given even more time together, it's entirely possible Atlas can further work on Bradley's ring smarts and prepare him for any big welterweight showdown he can get, although with Mayweather insisting he stays retired, it seems highly unlikely he would return to fight 'Desert Storm' even if he did come back for the 50-0 next year as people continue to believe he will.
Irrespective, Atlas was keen to gush about the possibility of a Floyd fight, using the name Mayweather to promote his own cause, suggesting the battle of ring smarts between them would be 'interesting' regardless of if Bradley's Top Rank links would sour any future deal with the Haymon-loyal Mayweather.
"I can get [Bradley] ready for whoever is next, maybe someone, I forget his name, maybe someone named Mayweather," Atlas told ESNews, although the slight attempt at humour admittedly fell a little flat.
"He's been out of the limelight a while, so people forget about him but if he wants to come back for number fifty, and wants to match intelligence with us, it'll be interesting," he added. "Give us a chance to come up with a game-plan to give him a loss, I don't know!
"That's (next move) in the hands of [wife & manager] Monica, and it's in the hands of Bob Arum, the best promoter of the last 50 years if I'm honest." Atlas added.
Twitter @undilutedpoison