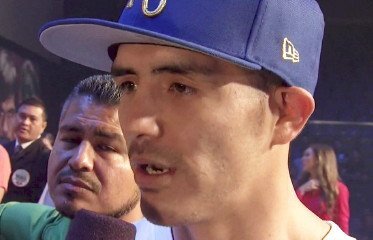 After his comprehensive stoppage defeat at the hands of WBO welterweight champion, Tim Bradley, last night, Brandon Rios publicly called time on his career, insisting he just couldn't 'pull the trigger,' and shrugged off the loss with a customary, 'f*** it!'
Rios had tried in the build up to suggest he wasn't done yet, and that he had plenty left in the tank, yet it became evident quickly that 10 frustrating months out of the ring had helped kill any desire 'Bam Bam' had left, and he had just been paying lip-service with comments about dragging Bradley into a war.
"I seen it tonight and I felt it," he said post-fight to fighthype. "Even going out for the 2nd round I could see it in [trainer, Robert Garcia's] face, he could see it in my face and I wasn't pulling the trigger like I should.
"I wasn't letting my hands go like I should and that's not the way I fight. When I was in there I wasn't doing sh**, I was being stupid. It's time, man. When it's time, it's time," he added.
Rios had endured a frustrating year since his victory in January over an out-of-sorts Mike Alvarado, a win that now looks slightly ironic stood up next to last night's outing in which it was Rios portraying the fighter clearly 'not at the races.'
A mooted clash with IBF welterweight champion, Kell Brook, fell apart over the Summer, another event that looks rather fortuitous in light of the Rios who walked into the ring last night, as it certainly wouldn't have taken Brook 9 rounds to dispatch 'Bam Bam' on that form.
"I got beat by Bradley, fu** it," Rios added, laughing and attempting to shrug off the loss and the fact he was stopped by a fighter not known for his power. "I got stopped in my retirement! It was a body shot though, that sh** caught me good!
"It is what it is…."
Twitter @undilutedpoison