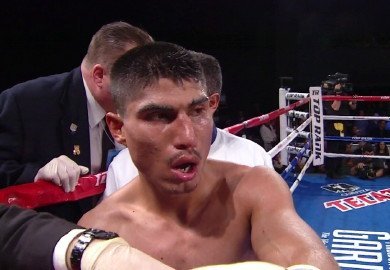 Manny Pacquiao (55-5-2, 38 KO's) may have run out of viable opposition in the 140-147 lb. class in his promoter Bob Arum's Top Rank stable, but the 82-year-old promoter is in the process of digging up a new opponent that he's pooling from the super featherweight division in Mikey Garcia (33-0, 28 KO's), the WBO 130 lb. champion.
Arum wants to have the painfully thin Mikey move up in weight and get to the position where he can be a contender for Pacquiao by the end of 2014. In this way, Arum could scare up a new opponent for Pacquiao to fight.
2014 can be "very big for [Mikey], very big for him because it's going to be a breakout year for him," Arum said to Maxboxing. "We're looking for him to go up in weight. We're looking for him to get him in a position where he would be an opponent for Pacquiao."
What Arum seems to be speculating about is the overall interest in a Pacquiao-Garcia fight by the general public, because right now Mikey is not a huge star or even close to being a big star. So, even rushes Mikey into a fight with Pacquiao by September, there's no telling whether a a fight between them will do any better than Arum's last disastrous idea of matching Pacquiao against one of his struggling Top Rank fighters Brandon Rios. That fight brought in only 475,000 PPV buys, and it was just a really poor idea for Arum to match him against a fighter who pretty much had lost 2 out of his last 3 fights if you include Rios' controversial win over Richard Abril as a loss like many boxing fans did who saw the bout.
It's doubtful that Mikey will be able to pick up a ton of fans by September unless he's matched a lot better from here on out. Arum can't keep putting Mikey in with guys like Juan Carlos Burgos, who Mikey fights this Saturday night. That fight will do nothing for Mikey because it's a lateral move from Mikey's last fight against Roman Martinez. Arum needs to put Mikey in with lightweight Yuriorkis Gamboa whether Mikey and his trainer Robert Garcia like it not. Arum then needs to quickly bring Mikey up to 140 and try to find someone other than Rios to match him against so that he can get a solid win that will make believers out of fans.
It's understandable why Arum might want to push the Mikey vs. Pacquiao fight as soon as possible, because Pacquiao's contract with Top Rank will be expiring soon and there's no indication whether Pacquiao will re-sign. If this is the year Pacquiao will be with Top Rank, then Arum needs to make the Mikey-Pacquiao fight this year in order to make a star out of Mikey before Pacquiao is gone. The only way it works well is if Mikey either beats Pacquiao or looks very good in losing. Mikey looked kind of fragile in the Orlando Salido and Roman Martinez fights to me, and it's doubtful he'll be any more solid in moving up in weight to 140 or 147. I thought Mikey quit in the Salido fight when things started getting tough with Salido landing more and more. If Mikey does that against Gamboa, then he'll lose.