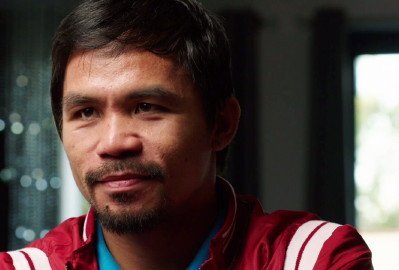 Bob Arum, the promoter for Manny Pacquiao, is saying that there's been some movement in the negotiations between Pacquiao and WBA/WBC welterweight champion Floyd Mayweather Jr. The two sides have been in negotiations for some time now with only little news about back and forth offers and counter offers. Arum says the negotiations are moving slowly, but they are moving.
"Talks are slow but at least there is movement," Arum said via the Manilastandardtoday.com. "It's always about money."
It would be surprising if the fight negotiations get ironed out soon. However, they're going to have to if the fight is going to go ahead for May 2nd, which is when Mayweather wants to fight next. Fighting in April is clearly too soon for a fight of this magnitude.
Pacquiao's adviser Michael Koncz says that Pacquiao will fight possibly in April if they aren't able to negotiate the fight with Mayweather. He says they have a number of options for opponents. He's not saying who the options are, but it's likely one of Arum's fighters in his Top Rank stable. It's probably not going to be a Golden Boy Promotions or an Al Haymon fighter, even though there are a number of interesting fighters that would make for an exciting opponent for the 36-year-old Pacquiao.
The Mayweather-Pacquiao negotiations are going to stay in a stalled position until the two sides can come to an agreement about the money. Mayweather can't be too greedy in the money split that he's hoping to get for the fight because he's probably not going to get Arum to agree to a purse split that is above what they feel that is fair. This means that if Mayweather asks for a 70-30 or an 80-20 split, the fight probably won't happen. Arum and Pacquiao will likely move on if they can't get something closer to a 50-50 split.
Mayweather can't get the kind of money that he'd get for a Pacquiao fight against any other fighter in boxing. If he doesn't give Pacquiao a fair price then he'll be stuck fighting someone else who doesn't bring a lot to the table in terms of pay-per-view like Amir Khan.