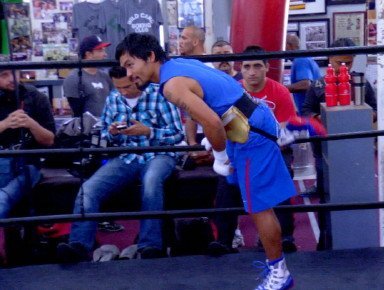 Top Rank promoter Bob Arum says his money fighter Manny Pacquiao is going to be facing a potentially big career decision if he were to lose to Brandon Rios on November 23rd in their fight in Macau, China.
Arum sees this fight as an exciting match-up, and he obviously wouldn't have made it if he didn't think Pacquiao had a good chance to win it, but he still thinks Pacquiao will have to make a decision about his career if he gets beaten. It would be Pacquiao's third straight loss and it's difficult to imagine where he would go from there.
Arum said to fightnews.com about Pacquiao potentially losing to Rios: "Manny has to evaluate what his future is in boxing, if any. That's for him to evaluate, not for me."
A loss to Rios, especially a clear defeat, would be the biggest hint of all that it's time for Pacquiao to retire from boxing. I'd expect his trainer Freddie Roach to tell him to hang up the gloves unless he had some kind of excuse to try and explain away the loss, such as "he wasn't aggressiveness enough" or "he lost concentration because of too many distractions in his life." After a while the excuses just seem hollow and like someone unable to grasp the reality that it's pretty much over for Pacquiao.
The only thing I could think of for Pacquiao is for him to try moving back down in weight to light welterweight or preferably lightweight. Light welterweight might not be light enough because he could face some guys that rehydrate up to well past the welterweight limit and then potentially give Pacquiao a lot of problems.
If Pacquiao could get down to lightweight, I think he'd do real well at that weight even if he were badly deteriorated. He could probably power past the likes of lightweight champions Richard Abril, Adrien Broner, Miguel Vazquez and Ricky Burns.