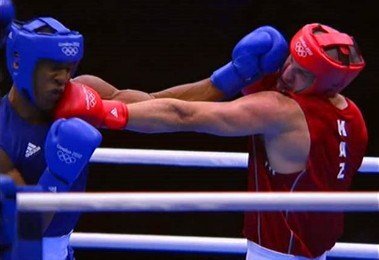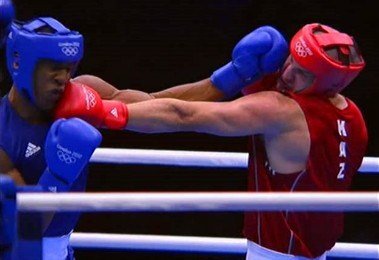 British heavyweight Anthony Joshua, 23, will be making his pro debut on October 5th on the Lee Selby vs. Ryan Walsh and Kevin Mitchell vs. Gary Sykes card at the O2 Arena in London, UK. Joshua, the 2012 Olympic super heavyweight gold medalist from Britain, signed with Eddie Hearn's Matchroom Sport promotional company.
It was a big decision for the 6'6" Joshua to turn pro, as he had previously set his sights on capturing a second Olympic gold medal in the 2016 Olympics. However, instead of taking that big risk and possibly ending up with nothing, Joshua decided to turn pro and take the sure thing money fighting in the UK in front of what will likely be huge audiences no matter who he faces.
Hearn plans on taking things slowly with Joshua instead of rushing him like many former Olympic gold medalists are. Hearn figures that Joshua has a lot of time to learn, so he's going to take the slow approach with him before he eventually starts matching him against quality opposition. Hopefully, Hearn won't take the same approach as welterweight Kell Brook, who has been fighting as a pro for 9 years and he's still not facing dangerous opposition.
Hearn said to hattonboxing "We will take Anthony forward at the right pace. Anthony is very grounded and he understands the road ahead. He's achieved an incredible amount in 43 amateur fights, but what impresses me more about him is his mental capacity. He has a great head on those broad shoulders and he won't be rushed."
That sounds like a smart move by Hearn, because he can make a lot of money for a long time even in facing weak opposition. Sky will no doubt televise all of his fights and they'll be able to sell out venues just based on Joshua's promise. In theory, Hearn could wait four or five years before he sets Joshua up for a world title, and make a ton of money in the meantime in matching him against weak opposition.
For Joshua to ever win a world title, he's going to wait out Wladimir Klitschko, and he's going to have to improve a lot. Joshua looked like an arm puncher in the Olympics and several of his wins in the competition were very controversial, especially his victories over Erislandy Savon and Roberto Cammarelle.
The fact that Joshua won those fights controversially while fighting in front of a home crowd in London seems to suggest that there's not much that separates him from those fighters in terms of talent. Joshua is huge, but he doesn't punch like you would think he would for someone his size.