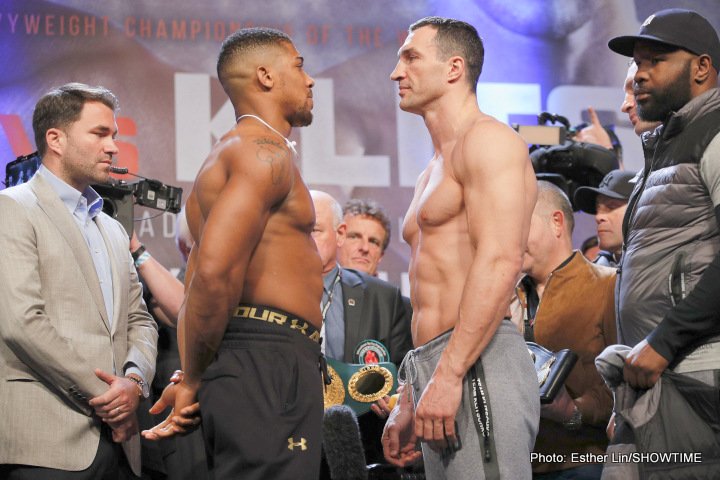 Anthony Joshua wanted to do it again, and he hoped Wladimir Klitschko would, too. But, instead of taking the rematch he could have had with Joshua, 41 year old Klitschko decided instead to call it a career and retire from the ring.
The April fight the two giants gave us provided the heavyweight division with one massive buzz, the knockdown-filled Wembley fight full of action and switches in momentum. However, a sequel was not to be. AJ, now looking ahead to a mandatory title defence against Kubrat Pulev and then one against Luis Ortiz, admits he suffered "massive" disappointment over the news that Wladimir opted to call it quits instead of agreeing to rumble with him a second time.
"In my heart of hearts I knew he probably wouldn't fight again," 27 year old Joshua said as quoted by BBC Sport. "He was saying how obsessed he was with becoming heavyweight champion of the world again. If you fail at the first hurdle, you go again – [he] knew from my side I was ready for the rematch, making it clear that if he wants to go again, we'll go again. Massive [disappointment]. It was probably a disappointment for his management, his trainer."
As "up" as Joshua, 19-0(19) was for a return showdown with Klitschko, is there the possibility of AJ failing to get himself sufficiently motivated for the upcoming Pulev and Ortiz fights? As professional as he is this seems unlikely but you never know. With all due respect to the once-beaten Pulev (beaten by Wladimir, via 5th round KO), the Bulgarian does represent quite a step down from the future Hall of Fame talents of "Dr. Steel Hammer."
Ortiz, though, as dangerous and as avoided as he is, will surely fire Joshua up. Who knows, this fight, between unbeaten punchers, one of them being a southpaw, might just provide the sport with as big a buzz as Joshua TKO 11 Klitschko did. That fight aside, an Ortiz fight will mark Joshua's toughest, possibly roughest pro test yet.