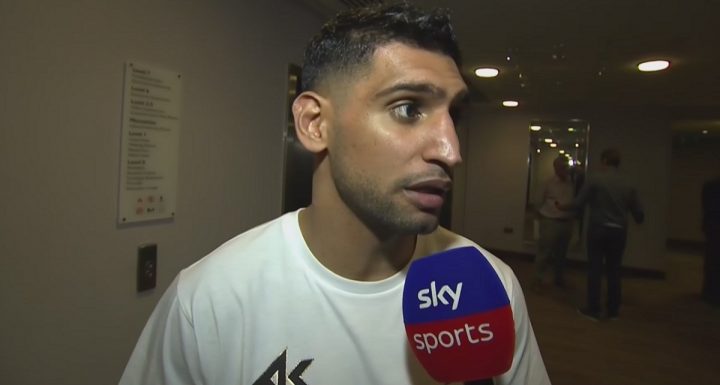 The one thing that could prove to be easy regarding the tough-to-negotiate, years in the making Amir Khan Vs. Kell Brook fight is the picking of a tag-line to promote the fight: "Finally." This is of course a tag-line that has been used before where a big fight is concerned, but it is totally fitting for this, an all-British welterweight showdown that should have been history long before now.
But now, with neither former champion really having anywhere else to go, certainly nowhere that would pay them as much dough as this fight still will, Khan and Brook appear to be 'closer than ever' to putting pen to paper and agreeing the fight. Promoter Eddie Hearn told Sky Sports he is hopeful the fight will happen next year, in either March or May. The sole sticking point now appears to be the rehydration clause Khan reportedly asked for; demanded even.
Khan, who is adamant the fight will take place at welterweight, wants Brook to agree to a rehydration clause that allows him to put on no more than ten-pounds in weight after the official weigh-in, on the morning of the actual fight. Naturally, Brook, who is massive for a 147 pounder, is not happy about this. So, will Khan budge, or will Brook budge? It seems this is the sole remaining obstacle in the way of this, a fight that still has significant fan interest, at least here in the UK.
Khan and Brook met face to face at Saturday night's big Usyk-Bellew fight in Manchester, and Brook stated later how Khan "looked into my eyes and promised me the fight will happen." Again, where else could either past his best veteran go? Naturally, if the fight does happen next year, it will go out on pay-per-view, or Box-Office, here in the UK, and it will almost certainly pull in respectable numbers.
It's no longer as big as it once was, or could have been, but Khan Vs. Brook has simply refused to go away. Will you get excited if the fight finally gets made?