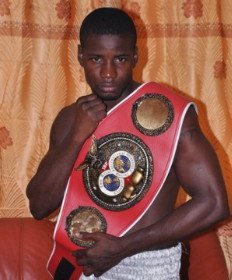 GHANA is engulfed in a festive mood as it host yet another major IBF title. This time around the vacant "IBF International Welterweight Title" is up for a grab. The rivalry is between two of the finest boxers from Africa and Eastern Europe. Pitting the "IBF Continental Africa Welterweight King" and number #5 IBF I/C Fredrick Lawson (20(19)-0-0) on the one hand and the Georgian strongman George Ungiadze (22(10)-14(3)-0) on the other hand respectively. The duos meet next weekend July 20, 2013 and their rumble has already been rated a 4 stars by the boxing pundits.
It is only natural for the nation of Ghana harboring so many talented boxers to invest so much hopes to these fine athletes while other countries in the continent are only paying lip services to the development of boxing as a professional sport. The country is rejuvenating its lost boxing glory that exited with the great boxers the like of Poison Kotey, Prof. Azumah Nelson, Ike Quartey to mention just a few.
Ghanaian boxing fraternity has seized the great opportunity to up her ante with number of its loved sons competing for various IBF titles after the in response to the "IBF Sports Tourism". The tremendous values and aggressiveness have already earned a number of Ghanaian boxers lucrative contracts and positive inquiries from boxing promoters in the USA, Europe and Asia respectively.
Frederick Lawson is an Olympiad boxer who competed at the Beijing Olympics in 2008 and put out up a remarkable show. He teamed up with the current "IBF World Youth" champion Issa Samir to represent Ghana to the said Olympics Games in Beijing.
Team Lawson's onslaught is lead by two of the great Ghanaian up and coming promoters ENUSA BOXING PROMOTIONS and the BOX OFFICE SPORTS LIMITED which have conducted comprehensive Press Conference on Saturday July 13, 2013 where Frederick Lawson showcased his finesse of his boxing talents and his "IBF Continental Africa Welterweight" title belt in his possession as the attached photos are showing.
Team Lawson is ambiguity of Ungiadze'a techniques and are searching all over the internet for the YouTube photos and other online videos showcasing the Georgian strongman latest shows.
With the history of his opponents chickening out in a couple of months behind him, now Lawson is ready and prepared to face anyone and anywhere so long as he finish this job on hand as he has other pressing matters of contractual opportunities awaiting him in various Western countries.
This is the rumble worth spending money at and those who cannot attend will surely miss one of the greatest show that Ghana has ever staged in recent years.