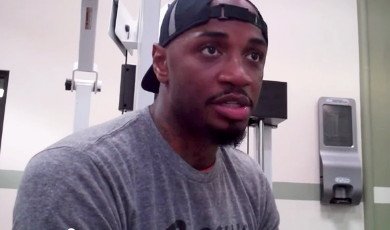 British heavyweight Dereck Chisora (16-4, 10 KO's) will be trying to turn around his struggling career this Saturday night in a scheduled 10 round bout against unbeaten American Malik Scott (35-0-1, 12 KO's) at the Wembley Arena in London, England. Scott, 32, is the world class contender in this fight, while Chisora is a 2nd tier fighter trying to turn his career around after having lost four out of his last five fights.
You can ignore Chisora's loss to WBC heavyweight champion Vitali Klitschko, because he's a really good fighter, but Chisora's losses to Robert Helenius, David Haye and Tyson Fury shows that Chisora is a level below those fighters in the talent department.
Chisora's still improving at 29, but he's going to have to show that on Saturday night against the #13 IBF, #15 WBA, Malik Scott. If Chisora can't even beat Scott, then it's perhaps best that he not bother trying to face any other world class heavyweights because the writing would be on the wall.
That doesn't mean that it'll be over for Chisora. He can still be a decent domestic level and perhaps a European level heavyweight, but the door would be pretty much closed on him as far as the world scene goes if Scott boxes circles around him this Saturday night. That's what Scott intends on doing. He sees himself easily beating the plodding Chisora by a lopsided decision in front of his own British fans.
Unbeaten super bantamweight Carl Frampton (16-0, 11 KO's) will be fighting a super flyweight Everth Briceno (35-8-2, 26 KO's) in a scheduled 12 round bout. What's unknown is why Frampton will be fighting a super flyweight instead of someone in his own weight class. That's two divisions below his weight class and it just seems odd, but it could be that there was no one available. Frampton, #3 IBF, #7 WBC, #11 WBA, #14 WBO, will likely beat the 35-year-old Briceno on size alone.
Frampton would be better off facing guys his own size if he wants to get good enough to compete against the likes of Leo Santa Cruz or Guillermo Rigondeaux. Fighting super flyweights won't get the job done, and Frampton is just wasting his time. Rigondeaux will still be loads better than him, and the same likely goes for Santa Cruz.