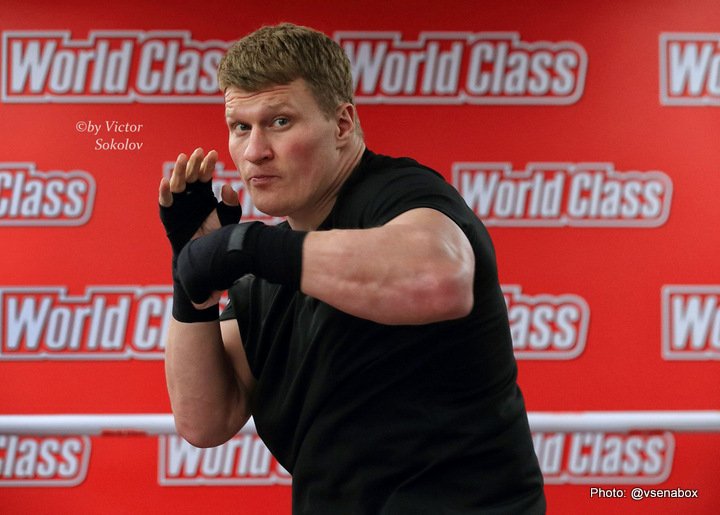 It seems former WBA heavyweight champ Alexander Povetkin is right back in business. Though the Russian star was "indefinitely suspended" by the WBC after testing positive for an illegal substance (Ostarine) ahead of his December 2016 fight with Bermane Stiverne, he has now seen his suspension lifted.
As per a news piece on TASS, Povetkin will be eligible to fight in WBC-sanctioned bouts this December 6. Povetkin must still pay a hefty fine, to the tune of $25,000.
"We have managed to prove that Ostarine entered Povetkin's body with natural supplements," Alexei Karpenko, a Povetkin representative said today. "The fine will be paid since there was a fact of negligence regarding the sports nourishment, which led to the cancellation of a scheduled bout (Vs. Stiverne)."
Povetkin, 32-1(23) – the sole loss coming at the hands of Wladimir Klitschko who decisioned him widely back in a 2013 unification fight – last boxed in July of this year when he won a lopsided 12 round decision win over Andriy Rudenko. The 38 year old is scheduled to meet Christiam Hammer, 22-4(12) in Russia in a WBO international title fight on December 15.
But should he win that fight Povetkin, in light of his suspension having been lifted, will look for bigger fights. Might we still see Povetkin in there with the likes of Wilder, Joshua and Parker? Right now he and his team are celebrating the fact that Povetkin has cleared his name:
"I promised that we would achieve justice for Povetkin," Povetkin's promoter Andrey Ryabinsky wrote on social media. "It is the first case in the history of boxing when a boxer proves himself innocent having such problems."
What the future does hold for Povetkin, we do not know. At his age and after having had a reasonably long career already, who knows how much Povetkin – who ruled the WBA title from 2011 to 2013 – has left to offer at the absolute top level. One thing though: in light of how terrible Stiverne looked against Wilder last Saturday, it seems there is a good chance Povetkin would have hammered him to defeat himself had their fight actually taken place late last year.
Can Povetkin rule again? Would you pay to see him try?