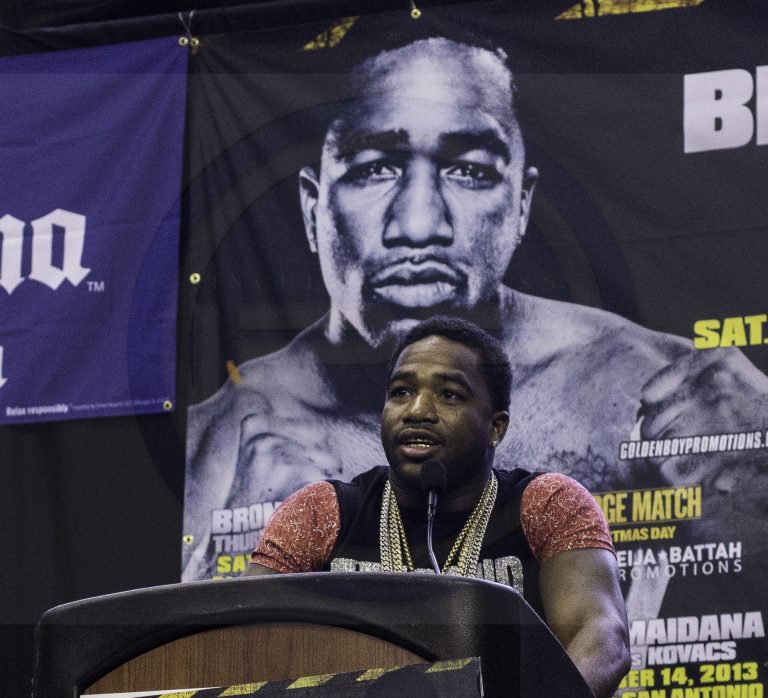 While promoting his December 14th, Welterweight title defense against hard punching Argentine Marcos "El Chino" Maidana in San Antonio, Texas, Adrien "The Problem" Broner spent some time apologizing to his die-hard supporters and detractors alike for a shocking "ménage a trois" video that was leaked online earlier this week.
Video interview attached:
"It is what it is," stated the 24 year old fighter. "I want to apologize to everybody out there. I didn't leak it, but I just want to apologize."
While the "X Rated" video has been the topic "du jour" on many internet fan sites, most die-hard boxing fans are much more anxious to hear how the undefeated pugilist plans to deal with a heavy handed and resilient fighter like the former IBF Junior Welterweight title holder.
"We know he can hit…he can fight. He's going to come to fight," confirmed the Cincinnati. Ohio, native. "Whatever he brings to the table, I'll be ready for it."
Although most fight fans are giving the power edge to the title challenger leading into the highly anticipated match-up, Broner feels that power and aggression won't be enough to overcome the dominant sharp-shooter's ability on December 14th.
"I'm on a different level than Marcos Maidana," claims Adrien Broner. "I've been at a different level. My credentials show it. Three time world champion in three different weight classes at 24…I did it at 23."
At the Alamodome press conference, in support of the event being dubbed as "Danger Zone", the talented, young fighter elaborated a little more on what truly separates himself from his challenger.
"You can switch trainers all you want, you can train a different way, but that isn't going to win you the fight. Skills win fights. This is an individual sport. You can lift weights with your teeth, you can push cars for two months, but that isn't going to help you in the ring."
"Because I know I'm blessed. I've got the skills to pay the bills, and I've got enough will that my last name could be Smith."
Too make this championship bout even more enticing, the always confident ring technician described how he felt the fight would eventually play out to the media and fans in attendance.
"So December 14th, this is going to get ugly. I'm talking Tyrone Hill, Sam Cassell ugly. It's going to get ugly…It's going to get really ugly. I don't think it's going the full twelve rounds. I'm going for the knock-out. So he'd better be ready…strap up!"
"So when you leave this press conference, you'd better know that I'm going for the knock-out. If you don't…duh, google me!"
Video and Photo courtesy of Carlos Sacriste